March 23, 2006
Forth & Towne expands to 5 new locations
Old Orchard features one of the five prototype stores in Gap's Forth & Towne concept. Amy and I checked out this store last year. According to a March 22 press release from Gap Inc., these stores have been successful enough to warrant the launch of 5 new locations in Atlanta, Houston, Los Angeles, San Francisco/San Jose and Seattle. The new locations are slated to open Fall 2006.
Posted by Tannerman at 12:06 PM | Categories: News | Old Orchard | Other Malls | The Promenade
March 09, 2006
Old Orchard Expansion Plans Downsized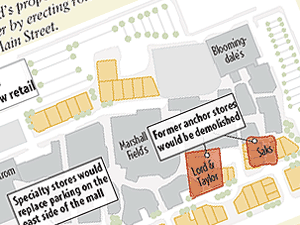 Remember that big expansion plan leaked by Westfield last June regarding Old Orchard's future? At the core of that idea was tearing down both the Saks Fifth Avenue and Lord & Taylor anchor buildings and replacing them with space for smaller shops. It was going to be the catalyst for rebranding Old Orchard as a "lifestyle center."
Apparently, those grand plans have been downsized greatly, much to the dismay of myself. According to the Chicago Tribune, Skokie (the village where Old Orchard is based) just approved a much smaller plan:

Skokie OKs mall changes
March 9, 2006
Tribune staff, wire reports

The Skokie Village Board has approved changes to the Old Orchard shopping center that are far less ambitious than the plans floated last year by the mall's Australian owner, Westfield Group. As part of a redevelopment of the former Saks Fifth Avenue store, the existing 104,000-square-foot structure would be replaced with a 64,000-square-foot building for smaller specialty stores and restaurants, according to a village report released this week. The plans would affect Steve & Barry's University Sportswear, which took over the Saks store last year. A representative of the inexpensive apparel retailer, which sells jeans, jackets and licensed college goods, declined to comment. Construction is expected to begin this summer. In June Westfield considered adding as much as 300,000 square feet of space to the well-known center. A representative could not be reached for comment.
Source: Chicago Tribune
Posted by Tannerman at 10:33 AM | Categories: Anchors | Coming Soon | News | Old Orchard | The Promenade
February 22, 2006
Field's Name Change: September 9
The jerks at Federated Department Stores have announced the date of the name change for Marshall Field's... it's going to take place the weekend of September 9. The stupid Macy's name will then appear at Old Orchard as well as every other Field's location, including the classic State Street store. Here's what the Chicago Sun-Times has to say:
Field's to become Macy's in Sept.
February 22, 2006
By Sandra Guy, Business Reporter

Marshall Field's will be officially renamed Macy's the weekend of Sept. 9-10, Field's parent company Federated Department Stores announced Tuesday -- the same day it reported better-than-expected holiday profits.

CEO Terry Lundgren also introduced a new marketing chief he hopes will make the Macy's name as well-known as Pepsi.

Lundgren said he wants to advertise Macy's in new ways so it becomes a national icon rather than a traditional department store.

To do so, Cincinnati-based Federated has hired Anne MacDonald, 50, a former top marketing officer at Citibank and Pizza Hut, as Macy's chief marketing officer and president of Macy's corporate marketing division.

MacDonald, most recently at Citibank, has built her career at consumer products companies such as AT&T, Citicorp and Procter & Gamble.

MacDonald, who will start her new job in late March, will succeed Peter Sachse, 48, who will take a new role as chairman and CEO of Macy's online site, www.Macys.com.

Macy's Web site is expected to grow in sales volume and functionality because Federated is pumping $130 million into its online and mail-order business in the next two years to boost its infrastructure and service capabilities.

MacDonald will be in charge of the TV ad campaign and other efforts to promote the company's growth as a national retailer, and as it prepares to change the name of some 400 stores it purchased to Macy's.

The Macy's nameplate will be affixed in phases to Marshall Field's and the other former May Department stores, but the nameplates will be covered with a banner until the Sept. 9-10 grand unveiling, a Federated spokesman said.

Profits at Federated during the important holiday season jumped 59 percent to $699 million, or $2.52 a share, on an 87 percent surge in sales to $9.57 billion.

Federated, which also owns Bloomingdale's, bought May Department Stores for $11.5 billion on Aug. 30.

It promoted deep discounts at the May Department Stores during the holidays to clear the racks so Federated can install its own brands, decor and private-label fashions.

Excluding merger costs and inventory adjustments to reflect clearance sales, Federated's earnings from continuing operations totaled $2.74 a share, easily topping analysts' consensus estimate of $2.62 a share.

Net income was bolstered by a tax settlement, a tight rein on costs and inventory and better-than-expected sales and profit margins at May Department Stores, including Marshall Field's, L.S. Ayres, Hecht's, Foley's, Famous Barr and five other regional department-store chains.

Sales at all of the May Department Stores unit, including Marshall Field's, inched up 0.1 percent, a far better result than Federated's earlier forecast of a sales decline of 5 to 7 percent.

Sales at Federated stores open at least a year -- a key gauge of a retailer's health -- were up 1.1 percent.

Lundgren has said 2006 will be a transition year with costs for store closings, the addition of 400 Macy's nameplates nationwide, and continued efforts to improve disappointing sales at the home-furnishings stores. Federated expects its same-store sales in 2006 to increase 2 to 3 percent, and to have full-year earnings of $3.45 to $3.70 per share.

Federated said it has buyers interested in the Lord & Taylor department-store chain and May's bridal group of stores, both of which it is selling. It declined to reveal the potential buyers' names, but said the sales should be completed this year.
Source: Chicago Sun-Times
Posted by Tannerman at 09:29 AM | Categories: Anchors | News | Old Orchard | Other Malls
February 14, 2006
Old photos of Old Orchard Shopping Center
Want to see how Old Orchard looked in the 1950s (pre-Westfield)? Thanks to a blog called Malls of America (catchy title), you can see retro photographs of various shopping centers from around the country.
The author has published two entries on Old Orchard. The first features a historical shot of Marshall Field's (soon to be Macy's -- blah). The second image depicts what I believe is now the intersection of The Park and The Garden looking north. The historical shot features a lot more trees!
Posted by Tannerman at 04:01 PM | Categories: Anchors | History | Old Orchard | The Garden | The Park
January 13, 2006
Federated puts Lord & Taylor on the block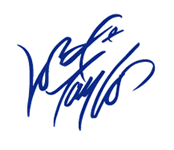 The anchor situation continues to be interesting at Old Orchard with Federated Department Stores announcing yesterday that they are selling their Lord & Taylor division. Old Orchard has a Lord & Taylor location, though it is rather small. In fact, the small store (along with the former Saks Fifth Avenue space, now a Steve & Barry's University Sportswear) were outlined for demolition by Westfield when their Old Orchard expansion plans were made public last June.
I'm guessing that the Steve & Barry's situation is a short-term lease and if Lord & Taylor gets sold/closed, Westfield will want to get their hands on that smaller building as well, clearing more hurdles for their expansion ideas. The Chicago Sun-Times has the full story on the Lord & Taylor ownership situation:

Federated to sell Lord & Taylor
January 13, 2006
by Sandra Guy, Business Reporter

Lord & Taylor is up for sale, and its stores may end up as new locations for an expanded Saks Fifth Avenue or another department store, analysts speculated Thursday.

Lord & Taylor's owner, Federated Department Stores, announced Thursday it will sell the 55-store chain so it can focus on its Macy's and Bloomingdale's department stores. The news ended rumors that had circulated for a year-and-a-half that Federated would dispense with the modernized but floundering Lord & Taylor, which has five Chicago area stores.

The Lord & Taylor chain garnered $1.57 billion in sales in 2004, and analysts immediately speculated that it could sell for $745 million after taxes.

The most likely buyers would be private-equity companies flush with cash. Private-equity companies have recently gobbled up Neiman Marcus Group and Toys R Us in separate deals.

Deborah Weinswig of Citigroup Smith Barney speculated that a private-equity buyer could buy Saks Fifth Avenue and Lord & Taylor, and rename all of the stores Saks Fifth Avenue.

Another analyst who asked not to be named said a smarter pairing would be Lord & Taylor with the upscale Parisian chain of 40 department stores in the South. Parisian is being sold by Saks.

Federated bought the New York-based Lord & Taylor chain as part of its stunning $11.9 billion takeover of the May Department Stores, including Marshall Field's and L.S. Ayres. The consolidation of the country's top two department-store chains, announced a year ago, took effect Aug. 30.

May Department Stores had tried to turn around the Lord & Taylor chain by introducing more fashionable merchandise and closing 32 stores that represented 38 percent of Lord & Taylor's store base but only 19 percent of the chain's total sales.

Federated expects to sell Lord & Taylor this year. Federated CEO Terry Lundgren, the man responsible for renaming Marshall Field's as Macy's, said that although Lord & Taylor didn't fit Federated's focus, it has "a great name, many outstanding locations, an experienced management team and a strong customer following."

Local shoppers have lost two Saks Fifth Avenue stores in the last three years, and could see more closings of Lord & Taylor stores.

After Saks announced last May it would close its Saks Fifth Avenue store at Old Orchard Shopping Center in Skokie, the shopping center proposed tearing down the Lord & Taylor and Saks Fifth Avenue stores to build an open-air shopping area filled with specialty retailers.

Two years ago, Saks closed its Saks Fifth Avenue store at Oakbrook Center mall in the western suburbs. It was replaced by a Bloomingdale's Home Store.
Source: Chicago Sun-Times
Posted by Tannerman at 10:03 AM | Categories: Anchors | News | Old Orchard | Other Malls | Westfield
December 14, 2005
Christmas at Fountain Court
Christmas has hit our favorite Westfield mall (though my wish with Santa would be for Westfield to knock off the little ego trip about their name -- it's stupid). Amy and I like to take photos to capture the decorations (see what we found last year).
A tradition at Old Orchard is to drain the large fountain located in Fountain Court (yeah, that's how it got its name) and put a large Christmas tree on that location, complete with little enclosed windows containing animated stuffed animals. It's not as cool as going downtown to see the State Street Christmas windows, but it's something.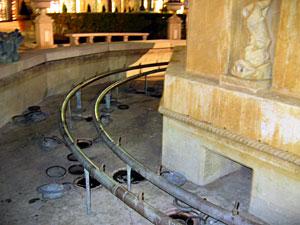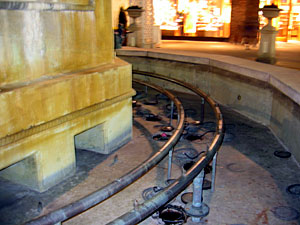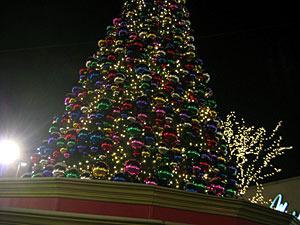 The windows at the base of the tree feature animated teddy bears doing stuff with musical instruments. It's supposed to come off as cute, but frankly the display is rather cold and lifeless. Probably because their is no storyline, music, or purpose... and sometimes the mechanics are broken. But other than that, it's not too bad! :)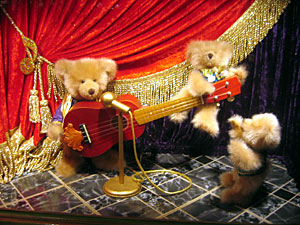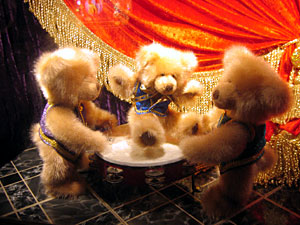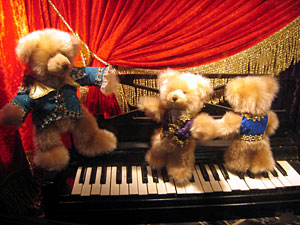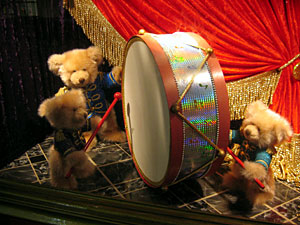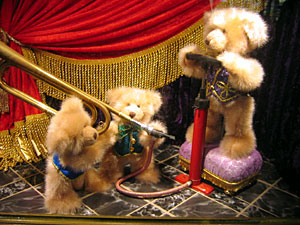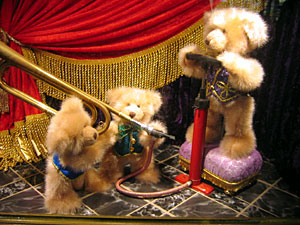 Then again, I think I'd rather tolerate this weak display than have to put up with Marshall Field's becoming crapola-Macy's.

Posted by Tannerman at 09:52 PM | Comments (0) | Categories: Fountain Court | Old Orchard | Westfield
Coming Soon: Max's Opera Cafe
The Houlihan's restaurant has closed next to The Orchard Food Court. I remember eating there one or two times. For some reason, all I can remember is that they only served whole milk. What the heck was up with that? In any case, construction baracades are now up promoting Max's Opera Cafe of Skokie. This appears to be a chain out of California. According to the locations on their website, looks like Old Orchard might be one of their first non-West Coast locations.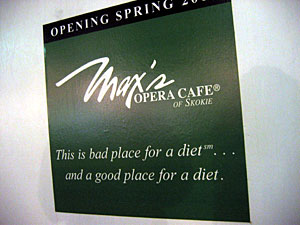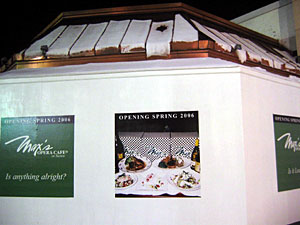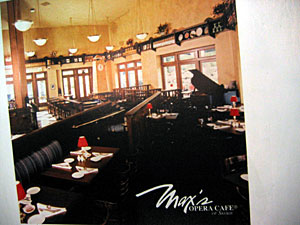 The description from the website is as follows:
Towering deli sandwiches, gigantic salads and entree specialties plus decadent fresh-baked breads and award-winning desserts have been signature items of family-owned Max's Restaurants since 1978 with the opening of Max's Son in Daly City. Dennis Berkowitz, owner of Max's, named the restaurant in honor of his father. Max's sang a new tune in 1982 with the opening of Max's Opera Cafe in San Francisco, where the customer is entertained by servers singing opera and show tunes. Max's Diner, opening in 1985, took us back to the '50's and '60's "counter culture". Twenty-five years later, Max's uncompromising standards protecting the customer's right to a great meal have remained and fans continue to keep Max's Restaurants cooking round-the-clock.
Looks like it could be fun dining experience with all that singing! Slated to open in "Spring 2006".
Posted by Tannerman at 08:58 PM | Comments (0) | Categories: Closed | Coming Soon | Old Orchard | The Orchard Food Court
Now Open: Oil & Vinegar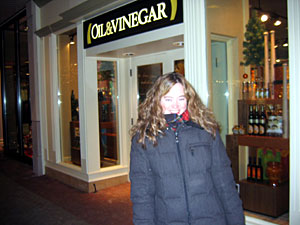 As previously mentioned, Oil & Vinegar has opened at Old Orchard in the old Crabtree & Evelyn space in the Fountain Court. We talked to the guy at the store. Store has only been open a few weeks. They are pretty new in the U.S., but have been in Europe for about 5 years. Bascially, it's kinda like a bulk candy store, where you pay to fill up glass bottles with the type of oils you want. Of course you can taste them before hand. Some are pretty pricey. But it's an interesting concept if you are into such things. I can see us going back to check it out.

Posted by Tannerman at 08:57 PM | Comments (0) | Categories: Fountain Court | Now Open | Old Orchard
Now Open: Sony Style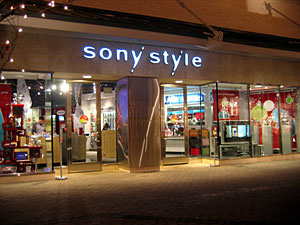 With the Disney Store relocated, the Sony Store is now open in the old Mickey space on Pear Lane. I can't say it looks more exciting than the Apple Store... but then again, what is? Not a big fan of Sony technologies or their corporate policies. But hey, at least it's not another clothing store at Old Orchard, which I appreciate!

Posted by Tannerman at 08:56 PM | Comments (0) | Categories: Now Open | Old Orchard | Pear Lane
Now Open: H2O Plus... finally!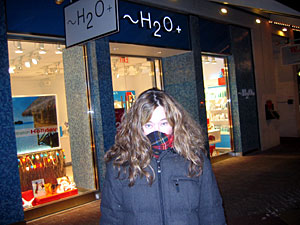 Well, it's been behind construction walls since May... but H2O Plus has finally opened on Pear Lane at Old Orchard. Good grief, that took freakin' forever. Fire the folks who worked on that job! (Or maybe Westfield just dragged the negotiations or something... who knows?)

Posted by Tannerman at 08:53 PM | Comments (0) | Categories: Now Open | Old Orchard | Pear Lane
Relocation: PURE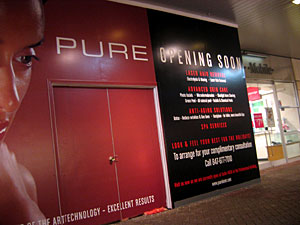 PURE is the "largest and most experienced privately-owned aesthetic companies in the United States and Canada with over 600,000 procedures performed to date." So apparently they do stuff like hair removal and that Botox stuff. And now they are moving to a space Hawthorne Way near the movie theater. PURE's previous location was actually in the Professional Building, so this is obviously a move to give them more public exposure. Per the construction wall, they are "Opening Soon".

Posted by Tannerman at 08:52 PM | Comments (0) | Categories: Hawthorne Way | Old Orchard | Professional Building | Relocation
November 29, 2005
So long Saks, hello Steve and Barry's
Back in May, we reported here at the Old Orchard Observer about Saks Fifth Avenue gearing up to close at Old Orchard. The store finally did close at the end of July.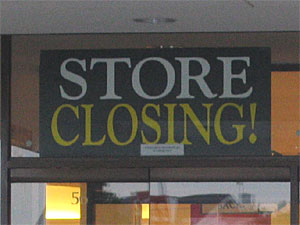 Before Saks did say good-bye, there were various levels of Store Closing sales. Amy and I dropped by many of these to check in on the progress of clearing out the large Saks space. The Old Orchard location had 3 levels (main, upper, and basement). Here are some photos we took during those final days.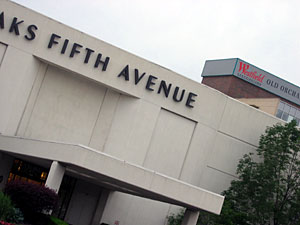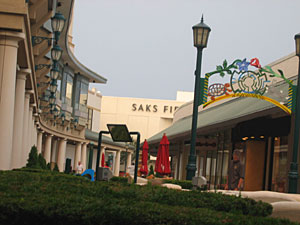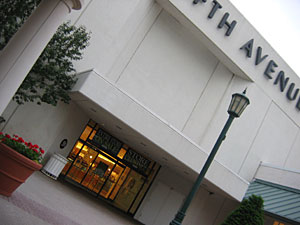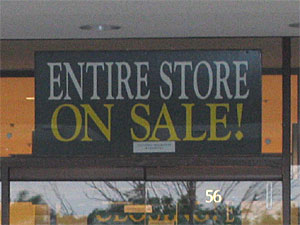 Inside the store, many of the fixtures were for sale, though it seemed like quite a few were earmarked for other Saks locations.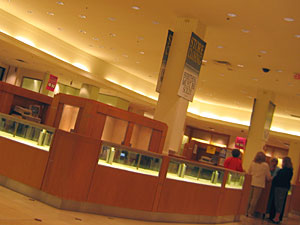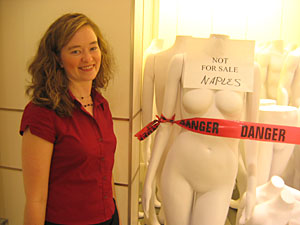 Eventually, all mention of Saks would be removed from the mall. This electronic sign mounted on the Professional Building was quickly changed after the Saks closing to remove the name of the store (and they probably fixed the burned out lightbulbs as well).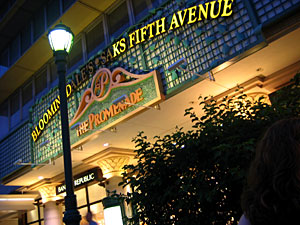 Signage was removed from the main Saks building as well, resulting in a very empty, barren spot. Much like everything at that end of Old Orchard.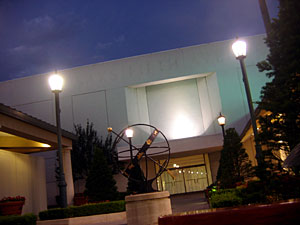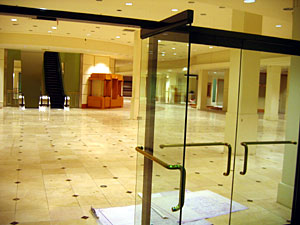 You may remember that back in June, word was leaked that Westfield was considering adding a lifestyle center element to Old Orchard. According to the plans made public, this would involve the demolition of both the Lord & Taylor and Saks Fifth Avenue anchor buildings. I haven't heard anything new since that news came out, but we did wonder if Westfield would leave the Saks building vacant or try to find a new tenant. That question was answered in October when the Chicago Tribune reported on a tenant to fill the space:
Continue reading "So long Saks, hello Steve and Barry's"
Posted by Tannerman at 12:26 AM | Comments (0) | Categories: Anchors | Closed | Now Open | Old Orchard | Other Malls | The Promenade | The Vineyard
November 01, 2005
Carson's name to stay in Chicago
As previously reported, Carson's has a new owner. Thankfully, according to this report by the Chicago Sun-Times, the name won't be changing anytime soon.
What about the name?
November 1, 2005
BY SANDRA GUY

Chicagoans, still reeling from Federated Department Stores' impending change of Marshall Field's name to Macy's, can breathe easy about the future of Carson Pirie Scott & Co.'s name.

Carson's will remain Carson's, Bon-Ton CEO and President Bud Bergren told the Sun-Times.

"We think Carson's is a very good franchise, and has a lot of equity," Bergren said.

He added that he thinks it's "a shame" that Marshall Field's will become Macy's in 2006.
Source: Chicago Sun-Times
Posted by Tannerman at 03:00 PM | Categories: Anchors | News | Other Malls
October 31, 2005
Carson's finds a new owner

Even thouugh Saks Fifth Avenue has closed at Old Orchard, their parent company is still making news... namely with the selloff of another Chicago brand name, Carson Pirie Scott. Now, I know Carson's has had lame Christmas windows on State Street the past couple of years, but here's hoping that their new owner, Bon-Ton Stores Inc., keeps the name alive in Chicago (unlike some other lame companies). Reuters has an article about the purchase:

Saks sells Carson Pirie Scott to Bon-Ton Stores
October 31, 2005
Reuters

The Bon-Ton Stores Inc. said on Monday it agreed to buy 142 stores from Saks Inc. for $1.1 billion in cash, making it one of the largest regional department store retailers in the United States.

The deal involves 142 Saks department stores that operate under the Bergner's, Boston Store, Carson Pirie Scott, Herberger's and Younkers monikers. The purchase will more than double the size of Bon-Ton, which currently has 139 department stores in the Northeast and Midwest.

Bon-Ton shares jumped about 27 percent to $21.19 on Nasdaq on news it clinched the deal for a lower price than the $1.5 billion Saks had originally demanded, traders said.

"The transaction solidifies and strengthens our position in the Midwest and extends our footprint into the Great Plains states," he said.

Saks' Northern Department Store group generated $2.2 billion in sales last year or about one-third of the retailer's total sales. In April, Saks sold its Proffitt's and McRae's chains to Belk Inc. for $622 million.

Luxury retailers have reported strong results in recent quarters as a booming housing market helps to lift spending among high-income consumers. But Saks largely missed out on the bonanza amid a probe into accounting that led to the ouster of three top executives.

Saks restated last year's results after the internal investigation found that the retailer had improperly collected discounts from vendors known as "markdown allowances."

Once the Northern Department Store unit is sold, Saks will be left operating its main, luxury department store chains Saks Fifth Avenue Enterprises with 105 stores, its Parisian chain with 40 stores, and Club Libby Lu with 56 stores.

Saks said on Monday it continues to explore options for Club Libby Lu, which offers makeover and dress-up parties for girls. The chain has received buyout interest from Build-A-Bear Workshop Inc., Too Inc., and Claire's Stores Inc., according to media reports. Those retailers have declined to comment.

Birmingham, Alabama-based Saks said it will have received more than $1.7 billion in cash from the divestitures of the two department store units. With a stronger balance sheet and expectations for improved performance its Saks Fifth Avenue and Parisian businesses, Saks said it may use some the proceeds from the Northern Department Stores for share-buybacks, a special cash dividend, or both.

Saks shares were up 10.3 percent, or $1,72, at $18.38 on the New York Stock Exchange on the news of the dividends, traders said. Saks' stock trades at about 26 times Wall Street analysts' profit forecasts for next year, buoyed by expectation of the unit sales, compared with 17 times earnings for luxury retailer Nordstrom Inc.

The deal with Bon-Ton, which was approved by both companies' boards, is expected to close early in the first fiscal quarter of 2006. Bon-Ton said it expected the purchase to add to its earnings immediately after completion, with cost-cuts starting in 2006 and reaching at least $33 million by 2008.

The deal is subject to certain conditions, including Bon-Ton's financing for the transaction. Bank of America, N.A. has executed a commitment letter with Bon-Ton to provide for the financing of the transaction.

Lazard was Bon-Ton's financial adviser on the deal, while Wolf, Block, Schorr and Solis-Cohen served as its legal adviser. Goldman Sachs & Co. and Citigroup advised Saks.
Source: Reuters
Posted by Tannerman at 05:08 PM | Categories: Anchors | News | Other Malls
October 13, 2005
Now Open: Forth & Towne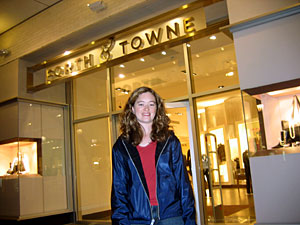 We explored the new Forth & Towne store at Old Orchard last night. This is one of five prototypes across the U.S. (4 of which are in Chicago). The store opened on August 31. As speculated, the store is two floors.
It's definitely a different feeling when compared to Gap's other stores. This one feels more like a department store. Very lush decor, almost retro in nature... harkens back to the comfy shopping experiences of old. A large staircase welcomes you to the second floor. Vast changing rooms take up a large circular space on both the first and second floors.
This store is obviously marketed at the same demographic as Talbots... older or professional women. Paul Pressler and friends have launched a couple of brands to support this approach.

Those include:
Allegory
Features suiting with a distinctly feminine touch and classic pieces with modern elegance.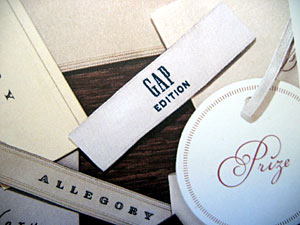 Gap Edition
Inspired by the nostalgia of Gap - fresh, casual, American style with a more mature fit.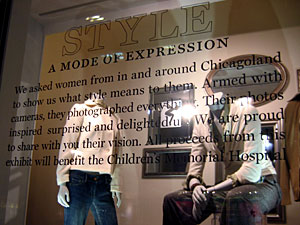 Prize
Celebrates fun, wearable trends with flattering silhouettes, flirty fabrics, and stylish cuts.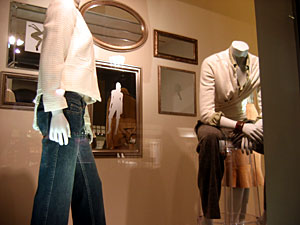 Vocabulary
Offers comfort and graceful femininity with rich knits and pants accentuated with prints and jewelry.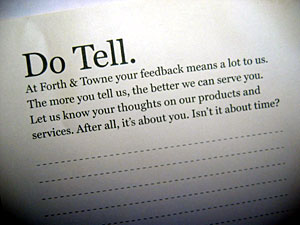 Overall, nifty looking place. Clothes were rather pricey, but that was to be expected. Impressive store design. I liked the approach they tried to take there. That said, it seemed like there really wasn't a whole lot of stuff "in" the square footage they had. Probably an intentional move, but felt more empty in the end. Then again, it's just not my demographic, I guess.

Posted by Tannerman at 10:53 AM | Categories: Now Open | Old Orchard | Other Malls | The Promenade
Old Orchard Kids Club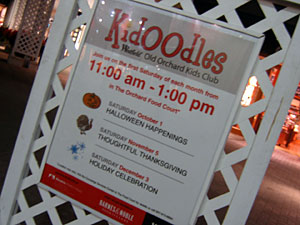 Apparently, Old Orchard has a kids club now called KidOOdles. Note the double OO in the name for "Old Orchard". Clever. You've already missed "Halloween Happenings" on October 1, but you can plan ahead for two other events: "Thoughtful Thanksgiving" on November 5 and "Holiday Celebration" on December 3. God forbid we actually use the "Christmas" word in the retail realm. Can't offend, now can we? Whatever.
More info in The Orchard Food Court.

Posted by Tannerman at 10:51 AM | Categories: News | Old Orchard | The Orchard Food Court
Now Open: Ethel's Chocolate Lounge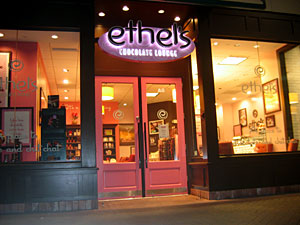 Earlier in the summer, the Gloria Jeans location at Old Orchard closed up shop, to be replaced by a new concept from Mars, Inc. called Ethel's Chocolate Lounge. Well, that new store is now open.
Amy and I checked it out last night. It's much different than our old coffee hangout. First off, much more upscale in nature. For example, 4 small, dinky pieces of chocolate were $6! Are you kidding me? There were couches, tables, and a lot of retro-60s styling. The guy at the counter asked if we had ever been there before, which of course we hadn't. He gave us a little brochure thingy that showed all their flavors, broken down into 5 categories utilizing 3 different types of chocolate... Dark (d), Milk (m), and White (w):

Cocktail
Etheltini (d)
Yum Run (d)
Perfecto Mojito (m)
Champagne Cocktail (m)
Lemon Drop (d)
Chocolapolitan (d)
Mucha Margarita (m)
Classic Cabernet (d)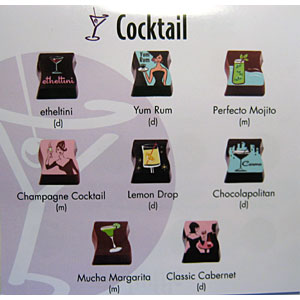 Truffle
Honey Truffle (d)
Milk Chocolate Truffle (m)
Dark Chocolate Truffle (d)
Espresso Truffle (d)
Pina Colada Truffle (w)
Mint Truffle (d)
Pistachio Truffle (d)
Earl Grey Tea Truffle (m)
Cinnamon Truffle (d)
Ginger Citrus Truffle (m)
Vanilla Truffle (w)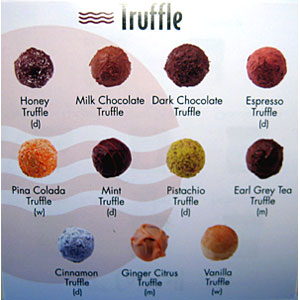 Nut and Caramel
Creamy Caramel (d)
Chewy Caramel (m)
Creamy Caramel (m)
Chewy Caramel (d)
Almond Crunch (d)
Macadamia Crunch (m)
Macadamia Crunch (d)
Pecan Caramel Crunch (m)
Pecan Toffee Crisp (m)
Almond Toffee Crisp (m)
Macadamia Toffee Crisp (m)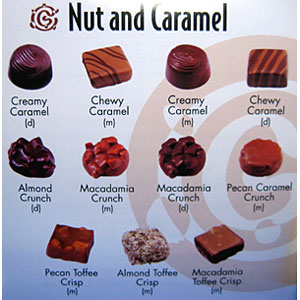 Fruit
Coco-Mango Tango (d)
Lemon Merengue (d)
Strawberry Sonata (m)
Banana Bop (d)
Raspberry Rhapsody (m)
Key Lime Limbo (d)
Orange Groove (d)
Coconut Samba (d)
Passion Rumba (m)
Raspberry Peach Fusion (m)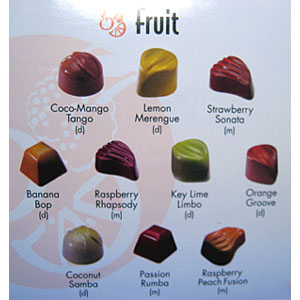 American Pop
Turtlicious (m)
Refresh Mint (d)
Peanut Better (m)
Cinna-swirl (m)
Crispy (m)
Circus Peanut (m)
Miss American Pie (m)
PB&J (m)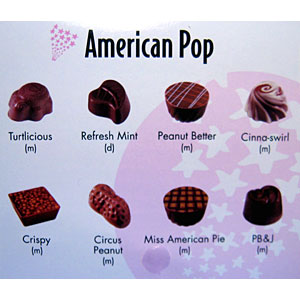 You have to love the creative writing that went into this brochure. For example:
here, among the truffles and cocktails, the nuts and caramels, the fruits and familiar favorites, you'll find one very rare and extraordinary ingredient common to every piece of ethel's chocolate: 100% pure chocolate passion. You can see it in the exquisite finish, detect it in the heady aroma, and taste it in every sumptuous and silky, warm-blended bite. We believe you will enjoy these premium chocolates as much as we enjoy making them for you. You love chocolate. We're here to help. Have a chocolate day.
Amy and I didn't actually buy anything during our first visit. I might consider trying their hot chocolate when the weather gets warmer (that should probably only run me like $10 a cup, right?).
Overall, interesting concept. Might work with the rich folks on the North Shore. But I'm not sure the everyman would give it a second look.
Posted by Tannerman at 10:05 AM | Categories: Now Open | Old Orchard | Pear Lane
Coming Soon: Sony Style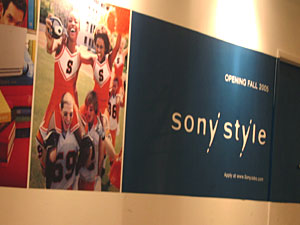 So now that Disney Store is being relocated into the old space from The Bombay Company, what's moving into the old Disney Store space? How about a Sony Style store! Think Apple Store, but not as cool or hip. C'mon, when was the last time the Walkman had a chance against the iPod? Anyway, official opening date is "Fall 2005."

Posted by Tannerman at 09:05 AM | Categories: Coming Soon | Old Orchard | Pear Lane | Relocation
Now Open: Sisley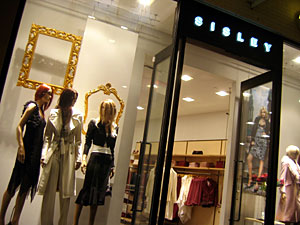 Back in June the construction walls first went up for Sisley. Well, the store is now open down in The Garden. Enjoy!

Posted by Tannerman at 09:00 AM | Categories: Now Open | Old Orchard | The Garden
Relocation: More on Disney Store
As mentioned back in July, Disney Store is moving from Pear Lane over to the old space from The Bombay Company in The Park. Construction walls are now up, and frankly, are decorated quite poorly.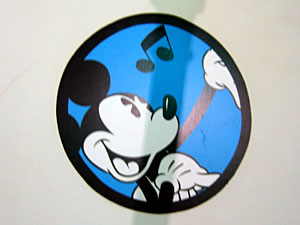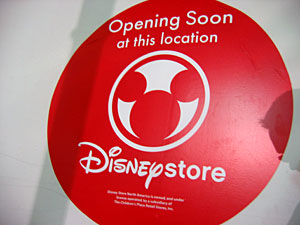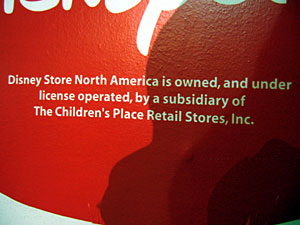 I think the downgrade in quality can probably be associated with the new ownership of Disney Store, which happens to be the folks over at The Children's Place. (As of August 27, 2005, they owned and operated 771 The Children's Place stores and 309 Disney Stores in North America.) Yup, it's another thing we can thank Michael Ei$ner for! Also, for the record, the official name is "Disney Store", not "The Disney Store". That change was made a few years ago when the franchise tried to become more "hip". Whatever.

Posted by Tannerman at 08:51 AM | Categories: Coming Soon | Old Orchard | Pear Lane | Relocation | The Park
Coming Soon: Oil & Vinegar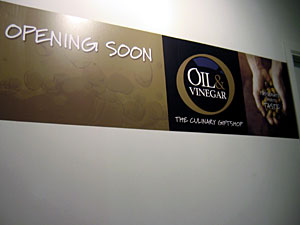 Looks like we are getting an Oil & Vinegar store at Old Orchard soon, located in the previous Crabtree & Evelyn space over in the Fountain Court (Crabtree moved to a new location in The Park). What is Oil & Vinegar? According to their website, they are "tasteful gift shops where you will find all sorts of splendid culinary gifts from all four corners of the world. Different types of olive oils and vinegar, together with a whole host of articles associated with gourmet eating and attractive tables." Yeah, sounds just like the perfect, over-priced, yuppie store that would do well at Old Orchard! Expected opening: November 16.

Posted by Tannerman at 08:39 AM | Categories: Coming Soon | Fountain Court | Old Orchard | The Park
September 29, 2005
Time for Fall!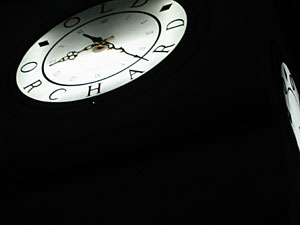 Fall is now upon us, which means it's going to be getting colder soon. Make sure you take the time to enjoy the outdoor experience of Old Orchard before you are rushing from store to store just to keep warm!

Posted by Tannerman at 04:47 PM | Categories: Old Orchard | The Promenade
Outside the Orchard - 09.29.05
We know you've been missing it (and have got to be saddened by all the Marshall Field's-Macy's news), so once again the Old Orchard Observer presents Outside the Orchard, a brief look at what the online world is saying about Skokie's mall.
Over on Jeni's Musings, a simple observation is made regarding the outdoor beauty of Old Orchard (even if it was posted way back in May) [Saturday, May 28]:
Saturdays are made for shopping

went with tita gina to old orchard mall (out door mall) in skokie - it is so beautiful. should have taken a picture. but too busy shopping
Jasmine writes about the recently-added Sephora store via News From The Flip Front [Monday, July 11]:
Stef and I shop for makeup at the Sephora store in Old Orchard Mall. This is where I find the Paul & Joe mascara which, when applied, makes me look like I could be an extra in a Bollywood musical.
Trey took a trip to Chicago back in June, and stayed at a hotel near the mall. Here are his thoughts posted via his blog, uniquely titled Trey's Blog [Thursday, June 30]:
To snap us back to reality, we trekked back across downtown to where we had parked. We drove back to Old Orchard, where our motel is located and visited the mall there, Westfield at Old Orchard. This mall is very cool because it has a indoor mall layout, but maintains an outdoor architecture. In other words, the stores are side-by-side, the walkways are close, and the roof only exists on top of the stores. A nice cool breeze blew through the entire time. This would be very nice to have in Houston, but the heat could make it a miserable experience. The girls ate a couple of New York style (thin crust) pizza slices. Cheri and I split a gyro and a Vienna Beef hot dog. They were decent, but still considered mall food. We finished out the day sharing a waffle cone of Fat Free Dreamsicle Frozen Yogurt. YUMM.
Andrew writes via md-2-b about leaving his church in Chicago to head to New York and med school! Apparently, he was suprised about what happened after that final Sunday service [Monday, July 25]:
So I figure something is up, but I'm not really sure what. At 6, Tai and I arrive at J&J's place. We're supposed to go to Maggiano's at Old Orchard, but Jeannie has to drop off a book at Tuscany's for a med school friend. I don't think anything of it... but when we get to Tuscany's, John suggests that we *all* go inside so that "we can see what it looks like." Hmm. So I follow, a little warily. Then the hostess greets us and asks, "Won, party of 20?" Haha... so the surprise was up.

I really didn't mean to find out about the dinner, and I really am sorry that it wasn't a surprise. It was very thoughtful and well planned out =c)
Did you know that Old Orchard has 12 movie screens? After that big rennovation a few years back, they doubled the capacity for movies. And bum writes on The Bum Log about seeing one of the summer's better films at the "Double O" (um, that's Old Orchard in can you couldn't figure it out) [Saturday, June 18]:
Just got back from seeing "Batman Begins" at Old Orchard. It was a good movie, commendable acting by Morgan Freeman, Michael Caine et al, but my favorite part? The fantastic job they did turning Chicago into Gotham City!!!
On the other hand, many bad films have been viewed at the mall as well, as Swain describes on The House of Swain [Saturday, June 18]:
I can recall sneaking into Cruel Intentions at Old Orchard in Skokie, Illinois... and many others so forgettable, that they're already out of my head for good. Having said that, I can tell you that I DID catch a free showing of Battlefield: Earth, and I STILL wanted my money back afterward.
The addition of extra theatres does make things rather confusing, however, because the screen locations are split 6 and 6. Screens 1-6 are located near Potbelly's while Screens 7-12 are near Maggiano's. The author of Modern Day Spinster shares in the confusion [Wednesday, August 10]:
In an interesting turn of events I went to the movies with BJ and saw March of Penguins at Old Orchard. I didn't park on the Maggiano's side because I inverted the theater numbers in my head.
The Beyond Retail blog "features opinion on retail, community and local projects and issues in the towns of Framingham and Natick, located in the MetroWest region of Massachusetts." And apparently, the author isn't happy that there aren't more Apple Stores in the area... using the example of Northbook Court and Old Orchard here in the Midwest [Wednesday, July 13]:
Old Orchard, an upscale shopping mall in Skokie, IL, is a mere 8.4 miles and 13 minutes from Northbrook. And not to diss Chicagoland, but I personally think that there are a lot more Apple users in MetroWest and Boston then in Chicago's North Shore and even the city of Chicago, seeing all of the universities and colleges in the area, not to mention the iPod craze that has been huge in this area.
Of course, Anabel (of Anabel Lee After Dark) likes the fact that Old Orchard has an Apple Store because, well, you can buy stuff there [Friday, August 5]:
Oh, I guess I should mention that tomorrow morning I'm going to Old Orchard to buy my ibook. I know, I know, I have no use for it. But to be honest, I really want it. Plus I have the money for it. Or well, I will in a week. I'll probably stop using my desktop as much. Perhaps only to play the sims. In any case, I'm excited.
Congress approved a transportation bill back in July. The Chicago Tribune had this interesting tidbit [Sunday, July 31]:
In addition to authorizing the CTA's proposed Circle Line, the legislation approves extending the Orange Line from Midway Airport to the Ford City shopping center, extending the Red Line from 95th Street to 130th Street and continuing the Yellow Line from Dempster Street in Skokie to the Old Orchard shopping center.
The Jade, who authors Jaded in Chicago apparently is divorced and has a kid... but has time to shop [Sunday, July 31]:
I got a pretty sweet divorce deal wherein The Ex paid my mortgage and all my bills and childcare costs for a year and a half. So, I just went to school, didn't work, and curbed my shopping tendencies. The limiting my shopping was hard considering that until that point I was like a homing pigeon trained to return to the shoe department at Nordstrom in Old Orchard on a regular basis. But I managed.
On More Nonsense, Nick writes about the worst year of his life, 1997 [Wednesday, July 27]:
The other thing that happened in 97 was that I had quit working at IRI and was now consulting. Consulting meant that I would not get a vacation all year. I worked a forty to fifty hour week every week with out any break. Holidays came and I didn't even get paid for them. Plus I was no longer working downtown so I had to drive to work every day, which I hated. I missed being in the loop and being able to go to lunch in the big city. Instead I was relegated to going to Old Orchard mall and grabbing some fast food.
Rita describes herself as "a student at the University of Chicago. I'm unfriendly. And I don't like squirrels." I believe she's also Jewish if you take the posts of her Nobody Sasses A Girl In Glasses blog into context. As since Old Orchard is located on Chicago's North Shore, a heavily Jewish area, you are bound to get some overlap in blog postings [Thursday, August 4]:
But there's nothing in itself wrong with recording all the minutia that made up the geography of life for Chicago Jews, and a lot of which makes up my own geography a few generations later--West Roger's Park, Lincolnwood, Hyde Park, Devon Ave., Boone School, Old Orchard Mall, The Bagel, even Jimmy's gets a nod. There's always something personal at stake when your own geography is opened to the public via a book or a movie. You become the kid who sees himself in a family movie and recognizes himself for the first time: "That's me! That's my house!" And you wonder how everyone else watching perceives you and your house. Do they see the same things you see?
The folks at Steve's News Annex plagiarize the Chicago Tribune with info about the previously-discussed (here, here, here, and here) Forth & Towne concept store at Old Orchard. Here are some excerpts from the excerpts [Monday, August 8]:
As for Old Orchard, "it's a mall, but it's an outside mall" with a good tenant mix, Muto said. "It's an affluent area and it's close enough to the city that it draws city residents. We're trying a two-level store there."
Apparently, you will soon be able to get some facial work done at Old Orchard, per the Chicago Tribune [Tuesday, September 13]:
Consumers shopping for shoes at Westfield Old Orchard will soon be able to pick up a shot of Botox, too. Pure Laser, which performs its hair removal, acne treatments and facelifts-in-a-bottle from the sixth floor of a professional building at the Skokie mall, is expected to begin construction soon on a location that will make it neighbors to other tenants Marshall Field's, Lenscrafters, Big Toy Express and Champps Americana. "My guess is it will offer more exposure to customers in the mall and walk-in traffic," said Shannon Ridgeway, Westfield Old Orchard marketing director. The higher-profile site is expected to open before the end of the year. Pure is at the forefront of what could be an explosion of personal-care services popping up in shopping centers as Baby Boomers want to try to turn back the clock, one retail consultant said.
Finally, we have some photos of good old Old Orchard, hosted via that nifty Flickr service (which Yahoo! recently acquired, so you know it's going to turn bad soon... anyone remember Hotmail pre-Microsoft?). Mac(3) shares a photo of the fountain located in the Fountain Court (go figure). Also shot by this photographer was two photos of the lion statue (1 and 2), also found in Fountain Court. And last but not least, two odd photos of a parking sign (1 and 2).
And that pretty much wraps up this edition of Outside the Orchard. Hope you found the postings completely pointless!
Posted by Tannerman at 04:24 PM | Categories: Anchors | Fountain Court | Old Orchard | Other Malls | Outside the Orchard | Westfield
September 20, 2005
Marshall Field's to become Macy's
Well, it looks like we'll see a namechange at Old Orchard soon (as well as downtown on State Street). Stupid Macy's.
No miracle on State Street: Marshall Field's to change to Macy's
Tribune staff reports
Published September 20, 2005, 11:01 AM CDT

Marshall Field & Co., a name long venerated in the history of Chicago retailing, will disappear in the fall of 2006, to be replaced by Macy's.

All 62 Field's in Illinois and seven other states will be converted to Macy's, according to today's announcement by Federated Department Stores Inc., Field's new owner.

While Federated had "great respect for the legacy and traditions of Marshall Field's," the decision to drop the Field's name was made after Federated "carefully researched customer preferences and studied alternatives," Terry J. Lundgren, Federated's chairman, president and chief executive, said in a news release.

"While the store's name will change, much of what customers love will stay the same, including Marshall Field's traditions and its outstanding record of community and charitable giving," Lundgren said.

"From a shopping standpoint, customers will have the best of both worlds in major markets like Chicago, Minneapolis and Detroit," Lundgren said.

"They will continue to benefit from regional buying that remains attuned to local preferences and lifestyles plus enjoy the distinctive merchandise and shopping experience that's part of the Macy's brand," Lundgren said.

"As part of this name change process, we will do everything we can to honor the Marshall Field's heritage, particularly in its Chicago birthplace."

The stores will be operated under a Minneapolis-based division, Macy's North, the Cincinnati-based Federated said.

Federated, parent of Macy's and Bloomingdale's, doubled its size Aug. 30 by completing its $11 billion acquisition of Field's owner, May Department Stores Co.

The acquisition gave rise to immediate misgivings among Chicagoans familiar with Federated's history of changing the names of regional department store chains it acquired to Macy's.

Most other May chains, including Famous-Barr, with seven Illinois stores, are to be renamed Macy's by fall 2006. One exception is Lord & Taylor, which Federated has ruled out changing.

The deal between Federated and May marked the second time in less than two years that Field's has changed hands. In July 2004, May bought Field's from Minneapolis-based Target Corp., which dumped its department store holdings to focus on its more vigorous discount chain.

The Federated-May deal created a $28 billion retailer with about 950 department stores.

Despite changing the name to Macy's, Field's may remain a fixture on State Street for some time to come. Two days after Federated closed its acquisition of May, the Commission on Chicago Landmarks formally recommended that the City Council bestow landmark status to the retailer's flagship store at State and Washington Streets.

If approved by the City Council, the landmark designation would give the city legal power to restrict building changes, including tinkering with the large nameplates on its exterior.

Preservationists and politicians have said changing the State Street store from Field's to Macy's would strip away a piece of the city's identity. Many also hoped a landmark designation would preserve the name of the State Street shopping icon.

"It's like changing the name of the Eiffel Tower, honestly," Preservation Chicago president Jonathan Fine said earlier this month. "I don't think Chicagoans will ever accept it as a Macy's. To us, that's somebody who sponsors a parade in New York."
Source: Chicago Tribune
Posted by Tannerman at 12:06 PM | Categories: Anchors | News | Old Orchard | Other Malls
September 02, 2005
Field's Watch: Chicago moving to protect State Street building
Panel backs landmark status for Field's flagship store
By Johnathon E. Briggs
Published September 1, 2005, 9:48 PM CDT

Whatever the new owners decide to call it, "Marshall Field and Company" may still be emblazoned on the outside of the historic department store, as the city moves closer to landmarking the building in the heart of the Loop.

The Commission on Chicago Landmarks formally recommended Thursday that the City Council bestow landmark status to the structure at State and Washington Streets.

If approved by the City Council, the landmark designation would give the city legal power to restrict building changes, including tinkering with the large nameplates on its exterior.

Ever since Cincinnati-based Federated Department Stores Inc. bought Marshall Field's latest parent, May Department Stores Co., it has considered renaming all Field stores as Macy's, in its efforts to create a national brand. Federated spokesman Jim Sluzewski said the retail giant, which finalized its purchase Tuesday, would decide by year's end whether to keep or abandon the Field name.

Preservationists and politicians say a name change would strip away a piece of the city's identity, and many hope a landmark designation will preserve the name of the State Street shopping icon.

"It's like changing the name of the Eiffel Tower, honestly," said Preservation Chicago president Jonathan Fine. "I don't think Chicagoans will ever accept it as a Macy's. To us that's somebody who sponsors a parade in New York."

"The name Marshall Field is so synonymous with Chicago history," said Ald. Burton Natarus (42nd), who pushed for the designation of the department store, which lies in his ward.

In the 1890s, retail pioneer Marshall Field set out to create the finest department store in the world and commissioned the architectural firm of renowned architect Daniel H. Burhnam to design a retail palace.

The oldest section of the complex, the nine-story stone and terra-cotta clad Marshall Field Annex at the corner of Washington Street and Wabash Avenue , was constructed in 1892. The rest of the building, built in stages between 1902 and 1914, is clad in gray granite and rises 13 stories.

In 1907, a year after Field's death, the overall floor space of the store measured nearly 35 acres and was the world's largest department store.

The store was rated red in the Chicago Historic Resources Survey, the highest category among structures considered by the city to be architecturally or historically significant. And last year, the landmarks commission gave it preliminary landmark status.

Describing it as the "grand dame" of department stores, the commission recommends protecting the building's exterior and key interior features, including the two bronze "Great Clocks" on State Street at Randolph and Washington Streets which were immortalized in 1945 by illustrator Norman Rockwell on the cover of the Saturday Evening Post.

The designation would protect portions of the first-floor sales area, including its gilded pillars, the complex's white marble staircase and landing, cast-iron staircase and its 13-story atrium. Also recommend for protection is the six-story atrium on the south State Street section, including its Tiffany glass mosaic dome and the seventh-floor walnut-paneled dining room known as the Walnut Room.

The recommendation makes no specific reference to the Marshall Field's name plates that adorn the building. But Brian Goeken, deputy planning commissioner for the city's Landmarks Division, said Federated would have to get city approval if it seeks to remove or alter the name plates.

Goeken also said if Federated renames the building, it is possible it could end up like the landmarked Carbon & Carbide building at 230 N. Michigan Ave. The building's name remains on the exterior, but it also has modern signage indicating its conversion to a Hard Rock Hotel.

An attorney representing Federated at Thursday's hearing said the retail giant supports the recommendation for landmark designation.
Source: Chicago Tribune
Posted by Tannerman at 09:13 PM | Categories: Anchors | News | Old Orchard
August 24, 2005
Forth & Towne opening August 31
Chicago women can soon size up Gap's Forth & Towne
August 24, 2005
BY SANDRA GUY, Business Reporter

Chicago shoppers will be among the first to experience Gap's new Forth & Towne stores, aimed at women ages 35 and older.

Four of the retailer's five Forth & Towne stores nationwide will open Aug. 31 at Chicago area shopping malls. The fifth, at the Palisades Center in West Nyack, N.Y., opens today. The stores range in size from 8,000 to 10,000 square feet.

Gap also operates Old Navy and Banana Republic stores, as well as its namesake Gap stores.

Forth & Towne -- the name is meant to evoke a meeting place -- aims to lure baby boomer women from department stores and specialty stores such as Ann Taylor, Talbots and Chico's.

Gap has a ways to go, since it has a 3 percent market share among women older than 35. The target audience makes retailers salivate because it's the second-largest spending group behind teenagers, accounting for $66 billion in yearly spending on clothing.

A focal point of the Forth & Towne stores is the dressing room. A dozen spacious dressing rooms outfitted with adjustable lighting, three-way mirrors and experienced sales people nearby serve as the centerpiece of the stores. Each dressing room is decorated differently, and there's room for a husband, daughter or friend to sit inside.

Customers inside the dressing rooms can have a salesperson bring them clothes, and they may give their purchases to a salesperson to ring up while they get dressed.

"No one has made the dressing room a pleasurable experience or treated these shoppers with respect," said Forth & Towne President Gary Muto. "Our concept was very much inspired by the romanticism of 1940s and 1950s-era department stores, when shopping was an event."

Another effort to win fans is the use of a size 10 as a starting point to model how Forth & Towne's clothes fit. The traditional model is a size 8, but 70 percent of baby boomer women wear a size larger than 12, according to Forth & Towne executives.

Forth & Towne stores will sell clothes in women's and missy's sizes 2 through 20, compared with Gap's other chains that carry sizes 0 to 16.

Forth & Towne's target customers "are savvy women who know what they want," said Austyn Zung, the company's senior vice president of product design and development, at a press conference Tuesday at the New York store.

"These women are stylish, grownup and elegant. Their challenge is that they are not finding what they need in the marketplace today," said Zung, who joined Forth & Towne last year from Oscar de la Renta.

Another selling point is price. Most items sell for less than $100. Dress pants range in price from $88 to $108; blazers, $128 to $148; and outerwear, $88 to $168.

Customers who sign up for a loyalty program and who spend $500 receive free alterations and 5 percent off future purchases.

Four styles and brands of outfits, ranging from jeans to business clothes to dress-up, will be featured in boutiques to make the selections easier to shop. Shoppers are encouraged to assemble entire outfits in each style.

The stores also will highlight jewelry, shoes and handbags, and will let shoppers mix and match the accessories when they try on clothes.

The stores' layouts resulted from interviews, shop-alongs and closet inspections with likely shoppers within the past 18 months.

Gap chose Chicago as the first mass market for Forth & Towne because it's a profitable market for Gap's brands, and it has plenty of baby boomer women, ethnic and racial diversity and popular urban and suburban shopping centers, Muto said.

Forth & Towne stores will be located at Westfield Old Orchard shopping center in Skokie, Woodfield Mall in Schaumburg, Fox Valley Center in Aurora and at Algonquin Commons, an outdoor mall that includes Circuit City and OfficeMax as well as specialty apparel stores.

Gap plans to open five more Forth & Towne stores in 2006, and 30 in 2007. The locations have yet to be disclosed.

Tim Calkins, a professor of marketing at Northwestern University's Kellogg School of Management, said local demographics are certain to be "spot-on" with the ones Gap wants because the company is investing a great deal in the roll-out.

"It's not like they went into Denver or Kansas City, which would be much less expensive," Calkins said.

Gap is launching the Forth & Towne name to appeal to a new set of shoppers, and to preserve its three other brands, Calkins said.

"Gap's big challenge is to make the new brand very distinct from its other stores," Calkins said.

"Otherwise, Gap could end up with a portfolio that's too redundant and too complicated," he said.

Gap needs a winner. Sales at its stores open at least a year fell 3 percent in the second quarter, which ended July 30, and it lowered its yearly profit forecast last week.

The San Francisco-based retailer, which had $16.3 billion in revenue in 2004, might even be plumping itself up for a suitor, according to a report by analyst Robert F. Buchanan at A.G. Edwards.

He wrote: "There's a chance that an outside buyer might actually emerge for the Gap," especially when private equity firms are looking to invest their hefty cash reserves in underperforming companies with growth prospects.
Source: Chicago Sun-Times
Posted by Tannerman at 08:54 AM | Categories: Old Orchard | Other Malls | The Promenade
July 29, 2005
Field's Watch: Name stays for now, Lord & Taylor safe
Since Old Orchard has department stores owned by Federated Department Stores (Bloomingdale's) and The May Department Stores Company (Lord & Taylor, Marshall Field's), here at the Triple-O we've been closely monitoring the Federated-May merger and the impact it will have on the mall and beyond.
With the merger pretty much finalized, as expected Federated announced this week that it is converting 10 individual May department store brands to the Macy's brand by fall 2006, resulting in Macy's bumping up to 730 stores across the country. Fortunately for us here in Chicago, that number does not include Marshall Field's at this time. Federated mentioned that they won't be converting Lord & Taylor to Macy's (as previously speculated by many back in June). The decision on the future of Marshall Field's won't be decided until "before Christmas." The company will also be closing 68 stores, while looking at converting others to Bloomingdale's.
The fact that Federated is keeping the Lord & Taylor brand rather concerns me, as that seems to be an outlier for them, somewhat hurting their "two nationwide brands" concept. Would they want another oddball brand in Marshall Field's as well? According to the Chicago Sun-Times, many are speculating that Field's may remain in name-only at the State Street location, while the other stores in the chain make the Macy's move. I guess we just continue to wait and hope they keep it Field's!
So, which chains lost their individual history and will now be assimilated by the Macy's Borg?

Famous-Barr (MI, IL, IN, KY)
David May started what became The May Department Stores in 1877. By 1892, his company acquired The Famous Clothing Store in St. Louis. Later, in 1913, he acquired the William Barr Dry Goods Company (founded 1849) and combined it with his other stores to become Famous-Barr. Thus, this Midwest chain has always been a part of The May Department Stores Company.





Filene's (CT, ME, MA, NH, NY, RI, VT)
Boston-based chain, and as such, lots of stores in the Northeast. Founded by William Filene in 1849. Despite similar names, not affiliated with Filene's Basement. Acquired by May from Federated in 1988. And the cycle continues.





Foley's (CO, LA, NM, OK, TX)
Primarily a southwestern store chain, it was originally founded as a Houston, TX, dry goods store in 1900 by the Foley brothers. Federated ended up owning Foley's, but sold them to May in 1988. Now they have them again.





Hecht's (DC, MD, NJ, NC, PA, TN, VA)
Founded in 1857 by Samuel Hecht, Jr. based in the New England area. Stores are primarily located in the East with an HQ in Washington, DC. Acquired by May in 1959. Contains previously acquired stores of Thalhimer's, Hess's, Wanamaker's, Woodward & Lothrop, and Strawbridge and Clothier.





Kaufmann's (NY, PA, OH, WV)
Founded in Pittsburgh in 1871, now based out of Boston. Located primarily in the northeastern part of the US. Acquired by May in 1946.





L.S. Ayres (IN)
Lyman S. Ayres purchased a dry good store in downtown Indianapolis, IN, back in 1872. The L.S. Ayres Tea Room, which operated at the downtown department store from 1905 to 1990, served a clientele of fashionable shoppers in a formal setting. Acquired by May in 1986.





Meier & Frank (OR, UT, WA)
Formed by a partnership between Aaron Meier and Emil Frank in 1873 in Oregon. A Pacific Northwest chain of stores. After a bitter battle between the two surviving families, the company was sold to May in 1966. A 2002 purchase of Zion's Co-operative Mercantile Institution increased the chain's size.





Robinsons-May (AZ, CA, NV)
May's department stores merged with J. W. Robinsons of Los Angeles in 1993 to create this brand, based on the West Coast. The first May stores in the area opened back in 1923.





Strawbridge's (DE, NJ, PA)
A northeastern US chain founded by Quakers Justus Clayton Strawbridge and Issac Hallowell Clothier in Philadelphia in 1862. Flagship is still based in downtown Philly. Acquired by May in 1996.





The Jones Store (KS, MO)
Department store founded in Kansas in 1887 by founder J. Logan Jones, a guy who was born in a wigwam on an Indian reservation. Moved his Stafford, KS, store called the Cyclone to Kansas City, KS, and The Jones Dry Goods Company. Acquired by May in 1996.



Federated, you suck.
Continue reading "Field's Watch: Name stays for now, Lord & Taylor safe"
Posted by Tannerman at 05:07 PM | Categories: Anchors | News | Old Orchard | Other Malls
July 27, 2005
KeepItFields.org

Well, not a surprise, but a website has been launched to help save the Marshall Field's name. Will the folks at Federated ever care? Probably not. They'll just use pointless, rigged "surveys" to prove that a name change doesn't really matter to Chicago residents. I will say one thing, however... I really like the Flash-based intro to this website! The Chicago Sun-Times has the full story:
Battle to preserve Field's name makes its way to the Internet
July 27, 2005
BY SANDRA GUY Business Reporter

A Web site claiming that Federated Department Stores' threat to "erase" the Marshall Field's name "is nothing short of criminal" launched Tuesday to organize Field's loyalists to keep their beloved store from becoming a Macy's.

The site, www.KeepItFields.org, seeks shoppers' stories on what Field's means to them, and includes links to news articles on the anticipated name change and an online petition to show "tangible support for keeping Field's as Field's."

Nick Potts of Minneapolis, a 25-year-old architect intern, said Tuesday he created the site with the intention of forming an online community.

Potts said he is concerned about the loss of regional identity in the face of globalization, and he respects Field's as a strong part of the community.

Federated bought Field's and other stores owned by St. Louis-based May Department Stores for $11 billion. The deal is expected to close this fall, and Federated CEO Terry Lundgren has touted his efforts to substitute Macy's for regional department store names.

Federated has already ditched Lazarus, Rich's, Burdine's, Goldsmith's and other longtime store names in favor of the Macy's nameplate.

Lundgren told reporters after a July 13 shareholders' meeting that Federated has hired an outside company to poll Field's customers about a name change.

"So far in our markets, our customers said it doesn't make that big a difference," Lundgren said.

The KeepItFields Web site dares shoppers in the Upper Midwest to "show Federated that we are not to be underestimated."

Potts wrote on the Web site that he created it "half out of desperation, and half out of optimism."

He wrote that his desperation stemmed in part from the fear "that the homogenization and dumbing-down of America is most likely going to take away one of the great icons of American history."

He called the Macy's brand "one that stands for nothing but an overhyped parade in a faraway city and economies of scale."

Potts wrote that he is optimistic that Lundgren will realize "that we in the Upper Midwest are more than a blank spot in a map waiting to be filled in and told what to do, think and buy."

A Field's spokeswoman said Tuesday that Potts has no affiliation with the retailer.

"We are fortunate to have such a strong emotional connection with our guests and the communities we serve," said Jennifer McNamara, Field's spokeswoman at Field's headquarters in Minneapolis.

A separate Web log started by a Web site editor urges Field's supporters to write to Lundgren or to call Federated's switchboard or manager of community relations to let their feelings be known.

Scott Smith, the blog's creator, is associate editor of arts and entertainment at the Web site, called Chicagoist. Smith, 30, said he found it interesting that young people who frequent the Chicagoist Web site were passionate about keeping the Field's name.

"We're not just talking about changing the name of a minimart. This will be taking away a part of Chicago's history."
Source: Chicago Sun-Times
Posted by Tannerman at 09:38 AM | Categories: Anchors | News
July 21, 2005
Professional Building becomes a wireless tower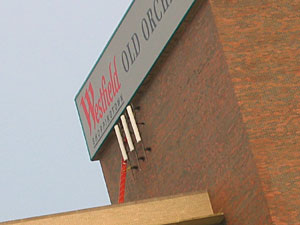 Proving once again that there's nothing Westfield won't do to make a buck, they are adding mobile phone tower antennas to the top of the Professional Building. What, you didn't like having just a normal brick building there? You had to muck it all up with stupid looking wireless crap? On the plus side, since installation, the antenna points have been colored brown to help them blend in with the brick. But honestly, ever since Westfield took over Old Orchard, they've done nothing but milk it to death with short-term money-making elements like this. Idiots!

Posted by Tannerman at 03:01 PM | Categories: Professional Building | Westfield
Now Open: NikeWomen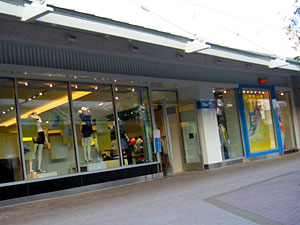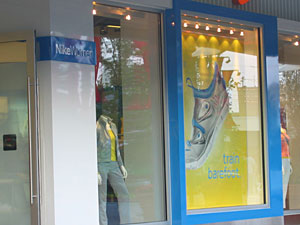 The NikeWomen store is now open, as promised by the construction walls we saw back in April. I'd like to say that it looks really innovative and unique... but it doesn't. Looks like your minimalist-decorated sporting goods store... much like the new Foot Locker.

Posted by Tannerman at 02:35 PM | Categories: Now Open | Pear Lane
Work continues on Forth & Towne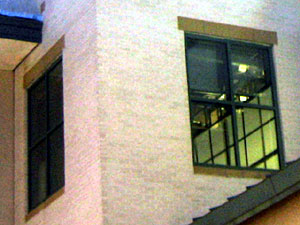 They're still hard at work on the new Forth & Towne location down by The Promenade. The other day we noticed that the windows found in the clock tower weren't covered, showing HVAC equipment. We don't know if this is part of the Forth & Towne space or not. It's still not certain if the new Gap-owned chain will use both floors of the previous Z Gallerie space. There is visible work happening on the 2nd level. 1st level construction is hidden by construction walls.

Posted by Tannerman at 02:26 PM | Categories: Coming Soon | Old Orchard | The Promenade
Relocation: Disney Store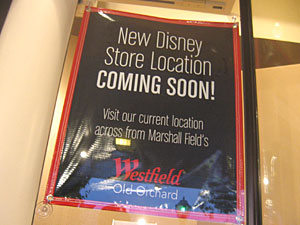 Not too long after The Bombay Company moved out of their location on The Park, a sign went up in the window stating that the Disney Store would be relocating from Pear Lane to the old Bombay spot. Interesting, indeed! No timeframe was given.
As a follower of the business side of Disney, I'm guessing that this is a move to put the Disney Store into a spot with less square footage, thus saving on rent. Not too long ago, Disney sold their struggling retail chain to The Children's Place to run under a licensing agreement. Perhaps this is a reflection of the new strategy. The Disney Store is a shallow reflection of what it once was, so I'm not hopeful either way. Stupid Michael Ei$ner!

Posted by Tannerman at 02:13 PM | Categories: Old Orchard | Pear Lane | Relocation | The Park
Renovation: United Colors of Benetton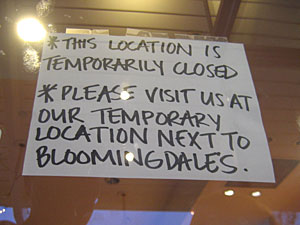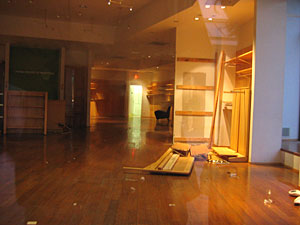 The United Colors of Benetton store found on Pear Lane has closed for rennovation. In the meantime, a temporary location has been setup on Vacancy Alley (officially known as The Promenade). Looks like the rennovated store will reopen in the fall (where it will join its parent company stablemate, Sisley).

Posted by Tannerman at 01:46 PM | Categories: Old Orchard | Pear Lane | Relocation | The Promenade
Closed: The Bombay Company
Over in The Park, we've got another vacancy. The Bombay Company closed a few months back. It seems like it was struggling quite a bit there. Over time you saw rebranding from "The Bombay Company" to simply just "Bombay".
To keep things on track, they seemed to be moving beyond just furniture to move into stuff like candles, fragrances, etc. In other words, going after the same market you'd find at say Pottery Barn. Apparently in Old Orchard's case, that wasn't working for this location.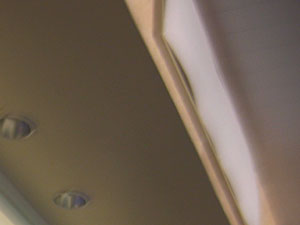 Temporary displays have moved into the windows of the Bombay location, promoting something called Eclectic Junction and Pull-A-Switch. Actually, we've seen these two window displays elsewhere at the mall, used to fill-in for vacant stores.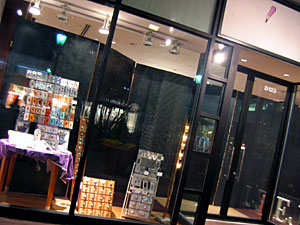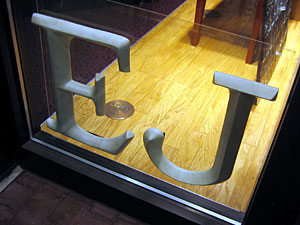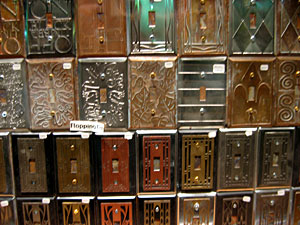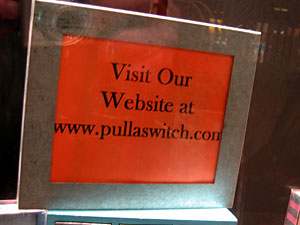 Seems like they sell interesting jewelry and really odd wall switch plates for your home. Hey, whatever works! Just an FYI, malls will often lease out vacant window space to existing tenants or outside folks looking for promotion... plus, it keeps the mall from looking barren and often provides additional revenue.
Posted by Tannerman at 12:44 PM | Categories: Closed | Old Orchard | The Park
Now Open: Foot Locker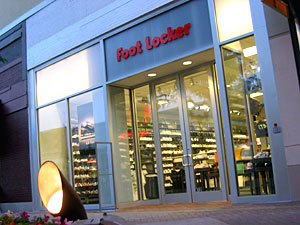 The new Foot Locker located over in The Vineyard is now open, next to the new PacSun. Combined, both of these stores replace the old Record Town/Sunday Matinee which was vacated earlier this year.

Posted by Tannerman at 12:24 PM | Categories: Now Open | Old Orchard | The Vineyard
Gloria Jeans out; Ethel's in
Over the years, one of our favorite places to visit while at Old Orchard was Gloria Jeans, located on Pear Lane. Now, I don't drink coffee, but my wife does, and compared to the other coffee offerings at the mall (mainly Starbucks), Gloria Jeans was the better option. I did get my fair share of steamed milk items, however.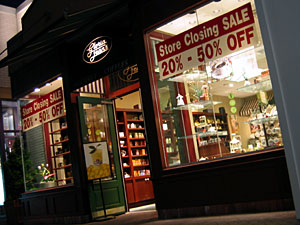 Unfortunately, like many other retailers, Gloria Jeans pulled out of Old Orchard after their 10 year lease was up, resulting in the store closing a few months ago. We were saddened by this. Soon construction walls went up around the space with no mention of what was on the drawing board.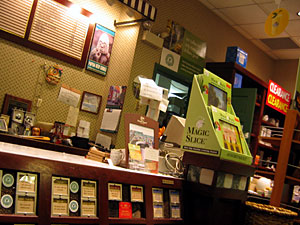 However, it appears a replacement is now in sight. We're getting an Ethel's Chocolate Lounge at Old Orchard! What's this all about? I'll let the Wall Street Journal explain this new concept owned by Mars, Inc.:
A place for cocoa nuts: Mars opens chocolate cafe
Friday, July 15, 2005
By Amy Chozick, The Wall Street Journal

At Ethel's Chocolate Lounge... couples and families relax on plush pastel-colored furniture, eating champagne chocolates and sipping mocha drinks. Behind a glass pane, espresso, pina colada and honey-flavored truffles sell for about $42 a pound. A sign reads "Chocolate is the New Black."

More precisely, Mars Inc., the closely held candy giant behind Ethel's (named after the late matriarch of Mars), is betting that chocolate is the new coffee. Decorated with pink-and-brown striped wallpaper and whimsical lighting, the new chain is Mars's attempt to make lingering over a plate of premium chocolates in a cafe space as mainstream as drinking a morning latte at Starbucks. For a company best known for making mass-market products like Twix and Snickers bars, this means transforming a lowly commodity into a high-price luxury.


...The $14.5 billion U.S. chocolate industry could use a shot of espresso. Dominated by decades-old products like Hershey bars and M&M's, the industry has posted annual sales increases of less than 3 percent from 2002 to 2004, reports the National Confectioners Association, an industry trade group. Meanwhile, sales at upscale coffee and cocoa stores (a category that includes Godiva as well as sit-down spots like Starbucks) rose 20.6 percent in the same period.

...The chocolate lounge dates back to 17th-century London, about a century after cocoa was brought to Europe from Latin America. Designed or the elite, European chocolate houses offered comfortable seating where the upper crust could socialize while drinking hot chocolate. Today, chocolate is still consumed in Europe more regularly than it is in the U.S., where consumers and manufactures have a more populist approach to it.
By the end of the summer, Mars expects to have 6 locations open in the Chicago area, including the one at Old Orchard (slated for an August opening).

Old Orchard already has an upscale chocolate store (Godiva), but it's not really built for lounging. It should be interesting to see how this battle for overpriced chocolate plays out. If they have a good hot chocolate, I may check them out come this fall!

Posted by Tannerman at 12:04 PM | Categories: Closed | Coming Soon | News | Old Orchard | Pear Lane
July 17, 2005
Field's Watch: Roger Ebert isn't a fan of a name change
Marshall Field's a city icon -- leave it alone
July 17, 2005
BY ROGER EBERT

The historic and honorable Chicago name ''Marshall Field's'' is headed for the Dumpster. How do I know this? Sandra Guy, a business reporter for the Sun-Times, reports that the name ''hung in the balance'' as Federated Department Stores approved a $17 billion takeover of the May Co., which owns Field's. And the balance is tipping, she added ominously.

This is an abomination on a par with renaming the Chicago Cubs the Chicago Mets. To pave the way, Federated is ''surveying customers'' and has hired an ''independent company'' to conduct interviews at malls, online, on the phone and by mail.

I can save Federated the trouble by informing them:

1. No one in Chicago wants Marshall Field's to be named Macy's. Absolutely no one.

2. The ''survey'' and the ''independent company'' will uncover a surprising groundswell of support for the name change.

This is because such surveys always produce the results desired by the people paying for the survey, a truth well known in business.

Everything depends on how the question is worded. For example, if I were to ask a Chicagoan, ''Do you think the name of Marshall Field's should be changed to Macy's?'' the result would be 100 percent negative. If I were to ask, ''Does a company have the right to choose its own name for a store?'' the result might be 100 positive.

So let me just assure Terry J. Lundgren, the three-headed chairman, president and chief executive officer of Federated, that I have been discussing this subject for several months at dinner parties, in line at the movies, on airplanes, while walking in the park and while engaging in brief but rewarding conversations with countless citizens of our city, and every single person has responded with outrage.

Lundgren believes he must ''brand'' his stores as Macy's or Bloomingdale's as a ''declaration'' to his shareholders that his company is built around the two national chains. How would his shareholders react if the Chicago flagship of his company found itself hated, shunned and reviled?

Marshall Field's is a name as closely associated with Chicago as Macy's is with New York -- an excellent reason for not making the change. Chicago is a world-class city, more beautiful, better mannered and cleaner than New York. We do not pile up our garbage on the sidewalks, and we do not trash our heritage. We even value a living and breathing Marshall Field among our population.

When Donald Trump came to town to tear down the venerable Chicago Sun-Times building and erect another of his phallic grotesqueries, I was sentimental but serene, because the Sun-Times building was homely and outworn, and because Mayor Richard M. Daley made Trump revise his plans until they were finally up to Chicago's architectural standards.

But as the holder of a Marshall Field's charge card and a citizen who takes out-of-town visitors into the building just to gaze upon it, if I should ever see the name ''Macy's'' under the clock at the corner of State and Randolph, I would never darken its doors again. I would be joined, I can promise Mr. Lundgren, by thousands if not millions of other Chicagoans.
Source: Chicago Sun-Times
Posted by Tannerman at 06:45 PM | Categories: Anchors | News
July 15, 2005
A Magical Night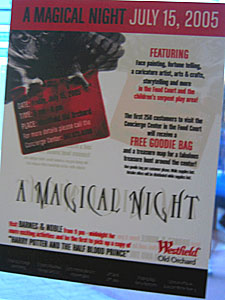 Like everyone else in the world, Old Orchard is capitalizing on the Harry Potter craze with the release of Harry Potter and The Half-Blood Prince. Barnes & Noble will be running a promotion from 9 p.m. to midnight today, featuring activities for those waiting around to pick up the 6th installment in the Harry Potter series at midnight.
Westfield is also offering face painting and stuff in the Food Court and the serpent play area. In addition, the first 250 cusomters to hit the Customer Service booth (oh, I'm sorry, it's a "Concierge Center") will get a free goodie bag containing a crazy treasure map so you can hunt around the center. Not a bad idea for a promo, I must say. That runs from 5:00 - 9:00 p.m. tonight.

Posted by Tannerman at 05:10 PM | Categories: News | Old Orchard | The Orchard Food Court | The Vineyard
2005 North Shore Art Festival
The North Shore Art Festival will be held this weekend at the Old Orchard shopping center in north suburban Skokie.
If you don't feel like doing the regular "shop at the mall" thing this weekend, you still might want to hop up to Old Orchard for the 15 annual North Shore Art Festival.

It tales place Saturday, July 16, though Sunday, July 17, and according to the Chicago Sun-Times, "will showcase more than $15 million in work by nearly 150 of the nation's finest artists in a variety of mediums, including life-size sculptures, photography, original hand-crafted jewelry, functional and decorative pottery, ceramics and paintings."
So there you go. Knock yourself out!
Image Source: ArtFestival.com
Posted by Tannerman at 04:10 PM | Categories: News | Old Orchard
July 14, 2005
Field's Watch: "Two outstanding national retail brands: Macy's and Bloomingdale's"
Clock is ticking for Field's name
July 14, 2005
BY SANDRA GUY Business Reporter

CINCINNATI -- Survival of the Marshall Field & Co. name hung in the balance here Wednesday as Federated Department Stores shareholders approved the $17 billion takeover of Field parent May Co.

And the balance was tipping toward erasing the 124-year-old company's name from Chicago's retail landscape.

Survival of the Lord & Taylor name looks even less likely.

Terry J. Lundgren, Federated's chairman, president and chief executive, told reporters following the shareholders' meeting, "Certainly Marshall Field's is a very well-known, strong name. But the real answer is not with us in this room. It's really with what customers actually will do with that name and how important it is."

Perhaps most telling was Lundgren's declaration to the shareholders: "First and most important, we have a clear vision for being this premier retailing company built primarily around two outstanding national retail brands: Macy's and Bloomingdale's."

Shoppers will know whether Field's will become Macy's by fall or perhaps earlier, but no name changes will occur before 2006.

Federated is already surveying customers in Chicago, Minneapolis and Detroit about the importance of the Field's and Lord & Taylor names. An independent party was hired to conduct interviews at malls, online, on the telephone and by mail, Lundgren said. Similar surveys of shoppers at once-venerated stores such as Rich's in Atlanta, Burdine's in Florida and Bon Marche in Seattle failed to stay Federated's hand from renaming them Macy's.

"The biggest resistance to changing the names came from our own employees," Lundgren said. "To get to the truth, you've got to go deeper, be more challenging and point out what's different inside the store. So far in our markets, our customers said it doesn't make that big a difference."

On the bright side, no Field's stores are expected to be sold because of overlap between Federated and other May nameplates, including Lord & Taylor, Filene's and L.S. Ayres.

But even if the Field's name survives, the chain faces extensive changes.

Federated will introduce its merchandise in Field's stores by fall 2006, including private labels such as INC, Charter Club and Tasso Elba.

Unique merchandise is crucial to Lundgren's mandate to increase sales. However he declined to endorse the continued presence of Field's State Street boutiques, operated by outside companies including Thomas Pink, Alexandre Savile Row and Baccarat crystal.

On the other hand, Lundgren signaled that State Street could remain as is but that its new parent would use more real estate inside the store for merchandise.

"There's a lot of room in the State Street store for upscale assortments," he said.

Source: Chicago Sun-Times
Posted by Tannerman at 12:31 PM | Categories: Anchors | News
July 12, 2005
Outside the Orchard - 07.12.05
The Old Orchard Observer presents once again... Outside the Orchard, a brief look at what the online world is saying about Skokie's mall.
Flickr user lay-c dot com posts this photo and this photo, highlighting the fountain located in the Fountain Court section of Old Orchard.
On the Dianatics blog, an interesting analysis is made regarding "Mall Mice", using Old Orchard as an example: [Saturday, June 11]:
My guess is we're switch hitters in our membership at the mall. We've been the field trip leaders who planned to go there for something new for the wedding, shirts for work or Aunt Zelda's birthday present next month. Most likely we've also been the tag-alongs — by volunteerism or having been cajoled into the trip, perhaps with the mythical promise that it'll be fun.

Observed on a recent Saturday at Old Orchard was a classic study in a mall goer and go-along.

He: Are you looking for nice shoes or casual shoes? These are good. He holds up a pair red flats.
She: I'm just looking for shoes.

He: Moving to a chair where he can see her through the racks of shoes... What size do you wear?
She: 7 to 7 1/2.

He: Noticing she's in the size 6 to 6 1/2 section... You're looking at the wrong shoes. These are the wrong shoes.
She: More annoyed... They're all mixed up. You just have to look.
Carolyn Moncel chimes in all the way from Paris, France, where she is adjusting to living. She writes in in Tales from the Seine [Monday, June 27]:

Now, here's what I don't get and no one yet has been able to give me a straight answer. Why are there only store sales roughly four times per year? ...In the US, if a store decides to put their inventory on sale, they just do it. They don't need what appears to be the government's approval to do it.

Chuck Berry sings "I'm so glad I'm living in the USA," and when it comes to shopping, it has become my anthem. That's because it's true when he says "Anything you want we got it right here in the US of A." When I get back home for vacation, I'm going shopping at Old Orchard, River Oaks, Orland Square, the Mag Mile or someplace. What's more, I just might kiss the ground in the process!
Over on The Savvy Traveler, it seems like biking has become hazardous for the author [Friday, July 1]:
...yesterday I went on this long bike ride to Glenview to get immunizations shots for typhoid and craziness, but i ended up on this highway, where there was no bike path. ...alas! about 3/4 of the way back my bike got stuck on a tree branch (a la nature reserve) and it broke, just like that. haha. now this seems funny but at the time i was wicked pissah. so i walked a bit, and got a cab ride from old orchard. ah well, i think i'm gonna have to go to the evanston hospital for the immunizations and malaria medication.
Reading Putting Power In Their Hands, it's argued that Dad's aren't too bright when it comes to shopping at Crate & Barrel [Wednesday, July 6]:
...we took our shopping skills to the suburbs as we tore through Old Orchard Mall. Mom and I got all sneaky on Brian and bought him new glassware that was on sale at Crate and Barrel before he had a chance. It was Mom's idea I swear. We tried to get Dad in on the plot to occupy Brian while we stood in line but Dad's not always bright in that area. He just kind of looked at us and smiled as Brian walked right up behind him. We made the two of them leave together and after our purchase, found them sitting and chatting in front of a flowerbed.
The folks over at life (over IP) are one of the few to write the full official name of Old Orchard in a blog post [Wednesday, July 6]:
I also decided to walk back from work tonight, a nice 20-minute walk. Every little bit helps. The Westfield Shoppingtown Old Orchard is right near the hotel, so I stopped in at the Apple Store, and grabbed a bite at the Cheesecake Factory. It's amazing that a open-air mall like this could exist in a cold-weather area like Chicago.
In this blog (Caution: NSFW) blog, author poiesia shares "100 factoids about me," including [Monday, June 27]:
74. I no longer like Old Orchard.
Evan writes in draykopf about being Jewish and shopping in the 'burbs [Thursday, July 7]:
Today I was shopping at Lowes in Lincolnwood. For those of you unfamiliar with this Chicago suburb, it is roughly in between two HUGE Jewish neighborhoods. At the blinds section, I found myself standing in line behind a nice woman and her two children - both wearing shorts and ratty t-shirts with dirty kippot and tzit tzit dangling. 20 minutes later, as I walk out of the paint aisle, I nearly run into a man pushing a cart and talking on his cell phone (don't you need an ear piece for this?) - he is wearing black pants, a white dress shirt a long beard and a kippah.

After that, I end up at Old Orchard in Skokie where after lunch at a place called "The Bagel" I found myself sitting in a sunny spot while waiting for my wife, and reading the July edition of the World Jewish Digest, which, by the way, has a couple of great articles about Jewish blogging.
Finally, Crain's Chicago Business featured an article about the Midwest losing jobs in the month of June, specifically [Wednesday, July 6]:
Illinois ranked second in the number of jobs lost in the Midwest in June, while employment cuts on the national level reached a 17-month high at a time of year when downsizing activity is typically slow, according to a report released today.

...In the retail sector, home decorating store The Great Indoors made significant cuts as did local branches of department store operator Saks Inc.... Both announced store closures in suburban Chicago, with the home decorator closing its Deerfield branch and Saks saying it would shut its high-end Saks Fifth Avenue store and its connected discount outlet at Skokie's Old Orchard mall.
Posted by Tannerman at 01:18 PM | Categories: Anchors | Fountain Court | Old Orchard | Other Malls | Outside the Orchard | Westfield
July 11, 2005
Field's Watch: More speculation on name change

Mary Jo Feldstein of the St. Louis Post-Dispatch writes on the May-Federated merger and more speculation on the future of the Marshall Field's name:

Most conversions to Macy's stores are likely to occur next year, Cohen wrote. Federated has not said which chains will move under the Macy's name, but most industry experts believe it will be the majority. Possible exceptions are Marshall Field's and Lord & Taylor.

"I think Marshall Field's and, to some extent, Lord & Taylor will stay," said William Cody, managing director of the Jay H. Baker Retailing Initiative at the Wharton School of Business at the University of Pennsylvania.

Marshall Field's is the oldest department store chain in the nation, and its name still carries cachet, particularly in its key markets, such as Chicago, he said.

Cody sees Lord & Taylor as the May chain with the most flexibility. Depending on location or size, Lord & Taylor stores could be sold off to other chains, such as Nordstrom, or converted into Macy's or Bloomingdale's, he said.
Source: St. Louis Post-Dispatch
Full story after the bump...
Continue reading "Field's Watch: More speculation on name change"
Posted by Tannerman at 09:01 AM | Categories: Anchors
July 08, 2005
History: Venture Stores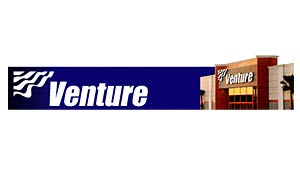 We've previously discussed both the future of the Marshall Field's name in Chicago, as well as its presence at Old Orchard. When the merger of The May Company with Federated Department Stores is finalized, many feel that Marshall Field's will be renamed as Macy's. What's ironic in all this is that the very company that sold out to Federated, The May Company, actually may have put the nail in Marshall Field's coffin way back in 1970. Well, at least indirectly via a division called Venture Stores.
You see, back in the 1960's, the big department stores were looking at launching divisions that targeted the discount store market. They figured why not try to target all these different demographics and reap the profits of everyone. Thus, in 1962, Dayton (which today after many acquisitions and name changes is known as the Target Corporation) launched Target. In response, and to hop on this trend, the May Company launched Venture in 1970 as a "family value retailer." Stores were primarily located in the Midwest.
Growing up in Chicago, of course I remember Venture. Their buildings were shaped much like a Kmart, with a distinctive black/white stripped design over the entryway. There was actually a Venture within walking distance of my boyhood home, so I spent a lot of time there before learning how to drive and shop elsewhere.
As the retail story continues, The May Company purchased Associated Dry Good (ADG), owner of Caldor. Both Venture and Caldor operated as discount chains that featured style, which made sense given their department store heritage. Eventually, The May Company spun off Venture and Caldor in 1990. Unfortunately, having to compete with Wal-mart, Kmart, and Target, both chain's sales decreased quickly.
By 1996, Venture tried to relaunch itself as a value-oriented store, in addition to creating a Venture Dollar chain. However, that didn't help. The next year, Venture sold off many of its stores to Kmart (including the one I grew up with). Finally, in 1998, Venture filed for bankruptcy. Kmart purchased more stores from Venture and that was pretty much the end of the chain.
The ironic part of all this is that The May Company currently owns Marshall Field's. Field's was once part of Target, which was a big competitor to Venture, created by May. Thus, May's failed attempt to make Venture work allowed Target to grow and eventually mishandle the Marshall Field's brand, dumping it on May. In turn, now May is merging with Federated in what may be the final death blow to Field's.
The retail world sure is crazy sometimes!

Posted by Tannerman at 02:16 PM | Categories: Anchors | History | Old Orchard
July 01, 2005
Celebration at The Cheesecake Factory
Over on Flickr, user elliterate has uploaded a set of photos that appear to be a pre-graduation lunch of some sort, taken June 17. The setting for the photos? The Cheesecake Factory, located on the 2nd floor at the north end of Old Orchard, in The Promenade. The official description reads, "Pre-emptive celebration at The Cheesecake Factory with Brandon and his family." Check out this nice shot of the Westfield sign through the glass.
Posted by Tannerman at 03:31 PM | Categories: Old Orchard | The Promenade
June 29, 2005
Now Open: Sephora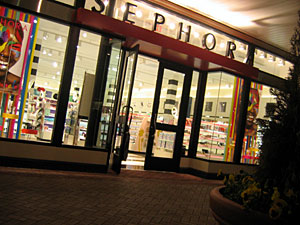 Hey, just in case you have a need to go out and buy a bunch of cosmetics, the Sephora store located in the Fountain Court area of Old Orchard is now open. I must say, I'm impressed by the amount of glass used in the storefront and how nice the lighting is. You never would have guessed it would look this way when the construction walls were up. It seems very welcoming and warm. Almost like it could be a central focus in Fountain Court. So far, so good.

Posted by Tannerman at 06:24 PM | Categories: Fountain Court
Now Open: Tiger Lily Boutique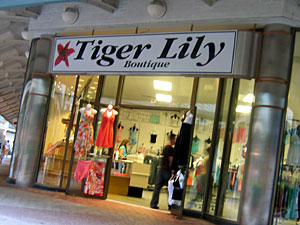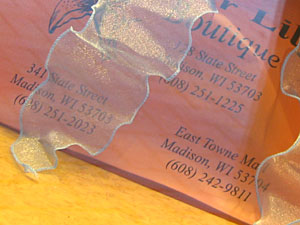 It's not often that you can report on a store actually OPENING in The Promenade section of Old Orchard. That area is full of vacant stores for some reason. It's often used by management to hold seasonal locations or temporary stores when the there is a remodel. Recently we noticed the Tiger Lily Boutique which opened across from the children's play area (near Bloomingdale's).
It appears it's a clothing chain that is based out of Madison, WI, as evidenced by various bags they had displayed in the windows with other location addresses. They haven't done much to renovate the store, so I have to wonder if this is also a short-term lease. The space in question has been vacant for well over a year. The clothing looks like it would be targeted more at junior high, high school, and maybe college age. I'm not fashion expert, so don't quote me on that. The fact that there were actually people INSIDE the store shopping was a good sign.

Posted by Tannerman at 06:17 PM | Categories: Now Open | Old Orchard | The Promenade
Now Open (again): Sunglass Hut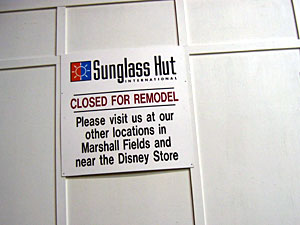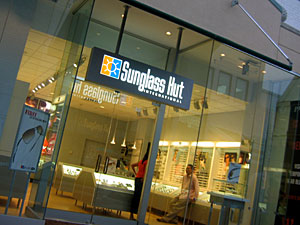 Remember back in May when we asked the question, "Why are there 2 Sunglass Huts?" At the time, there was a stand-alone location on the north side of Pear Lane and a Sunglass Hut/Watch Station combination store on the south side of Pear Lane. We witnessed the stand-alone location being demolished.
Well, it looks like that location was actually undergoing a renovation rather than a removal. The next day a white construction wall was put up. A few days later, there was a sign noting that the store was "Closed for Remodel". Then, shortly after that, the store was reopened as Sunglass Hut once again. And frankly, the front of the store looks very similar to the old store. Maybe the interior is different; I can't really tell. At the time of demolition, it looked like they were ripping everything apart, so I'm impressed with how quickly the store reopened.

Posted by Tannerman at 06:05 PM | Categories: Now Open | Old Orchard | Pear Lane
Renovation: Papyrus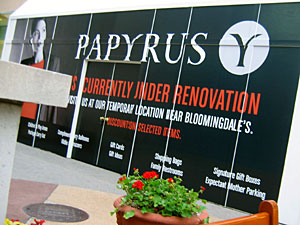 The Papyrus store located on Pear Lane is walled off for renovation these days. In the meantime, they've got a temporary location over in Vacancy Alley (The Promenade). Papyrus is the retail division of Schurman Fine Papers, "one of the finest organizations in the social expression industry." I didn't realize that there was a "social expression industry." Apparently that's more fancy that "paper and greeting card crap industry."

Posted by Tannerman at 05:52 PM | Categories: Old Orchard | Pear Lane | Relocation | The Promenade
Sara Lee closes all 11 Inner Self stores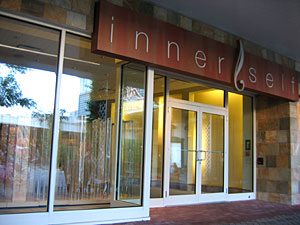 I bet you didn't know that Sara Lee owned a retail store concept designed to take on Victoria's Secret. It's true, and was called Inner Self, "a special intimate apparel/loungewear retail environment and experience that pampers, relaxes and soothes." Not that it matters, as Sara Lee has closed all 11 of these concept stores. They want to focus on the other brands they own (such as Playtex, Wonderbra, Hanes, and Champion -- nobody doesn't like Sara Lee!)
Frankly, they had to be a little crazy to think they could battle Victoria's Secret in this space. Sure, they tried to modify their target audience, going after a niche in the women 25-55 category, average dress size of 12. At the time, Sara Lee attempted to "provide an alternative to the often-unattainable, sexy ideal promoted by Victoria's Secret, and declining service at department stores."
Nevertheless, the chain is dead, and now there is a vacancy in the Fountain Court section of Old Orchard. We never saw people actually in that store, which only seemed to be around for a little longer than a year. In fact, when it first opened, it had to close for a few days due to a water leak. Telling signs of what was to come.

Posted by Tannerman at 05:43 PM | Categories: Closed | Fountain Court | News | Old Orchard
Coming Soon: Sisley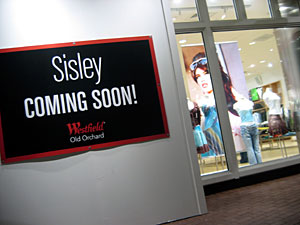 According to their website (which is rather risqué), "Sisley features men and women's collections whose basic objective is to be always on the same wavelength as those who follow fashion and keep themselves abreast of the trendiest tendencies. The collections, in fact, include sporty and casual wear, formal and elegant dresses - therefore an all-round offering for every moment of the day and for various needs."
Um, OK. They are owned by the Benetton Group (you know, the United Colors of Benetton folks) and are "the Group's most trend-setting brand, at the forefront of fashion." As Old Orchard already has a United Colors of Benetton store (located on Pear Lane), Sisley makes sense as a new addition. Look for it soon down in The Garden.

Posted by Tannerman at 05:22 PM | Categories: Coming Soon | Old Orchard | Pear Lane | The Garden
Coming Soon: Misako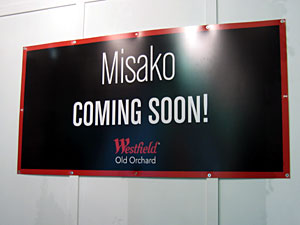 Misako is a Spanish retailer that specializes in "affordable chic" cloth handbags selling for around $32 each, regardless of size or style. According to the International Council of Shopping Centers, "Misako's selection of handbags, which make up 85 percent of the merchandise, will change rapidly as new collections rotate into the shops, generating repeat visits."
You'll be able to check this place out for yourself once it opens in The Park section of Old Orchard. This seems like the second "value" addition in recent months to Old Orchard's retail mix (the other being costume jewelry store Landau). I wonder if this is a strategic move by Westfield or just a situation where they are just glad to have a paying tenant! Oddly, Misako doesn't have a website.

Posted by Tannerman at 05:06 PM | Categories: Coming Soon | Old Orchard | The Park
From one snooty jewerly store to another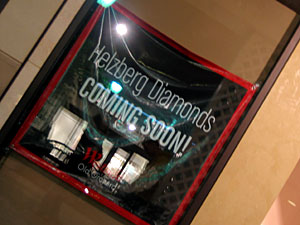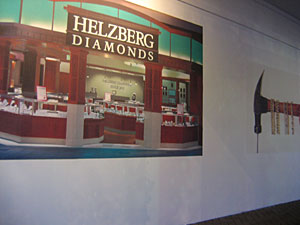 Over in The Park section of Old Orchard, we've recently seen the exit of jewelers Christian Bernard, which had a prominent corner location on the edge of The Park and Hawthorne Way. I remember when my wife and I were shopping for wedding rings, we stopped into this store and did not have a good experience at all. So I don't shed any tears.
However, it appears that we're getting another jeweler in the same space. This time around it's Helzberg Diamonds (formerly known by the more tacky "Jewerly3" name). Oh joy. We also stopped at one of these stores in search of wedding rings. They tried to amaze us with this one diamond by taking us into the "steaming room" to see how reflective it was once it was steam cleaned. And they gave us free coffee. But beyond that, it was a joke. We ended up buying our rings at a local jeweler and have been very happy ever since.
Anyway, like Rogers & Hollands when it was under construction, Helzberg Diamonds has artwork on their construction barricades that tries to tie together the concept of "jewelry" and "carpentry". Yeah, I don't get it either, but it's a cute attempt nevertheless.

Posted by Tannerman at 04:56 PM | Categories: Coming Soon | Hawthorne Way | Old Orchard | The Park
Coming Soon: Foot Locker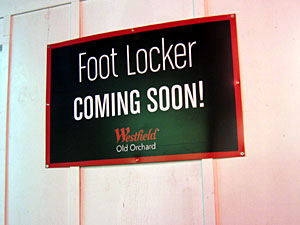 With the exit of Record Town/Sunday Matinee in The Vineyard, their space was divided into two smaller stores. The Old Orchard Observer has already covered the first tenant in the western half of the space (PacSun's new location).
We're proud to announce that the eastern half of the space will be occupied by Foot Locker. This is an interesting move, as the mall just saw the exit of Lady Foot Locker and soon will see the entrance of NikeWoman. There is already a Finish Line store located on the other side of the mall. The new Foot Locker will be situated near Theaters 7-12, Maggiano's Little Italy, and Barnes & Noble. Interesting neighbors, to say the least. Perhaps they are hoping for the youth traffic spurred by the movie theater.

Posted by Tannerman at 04:42 PM | Categories: Coming Soon | Old Orchard | The Vineyard
Crabtree & Evelyn is moving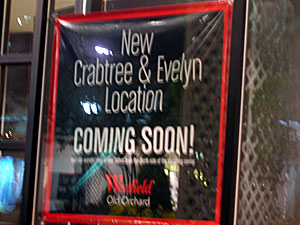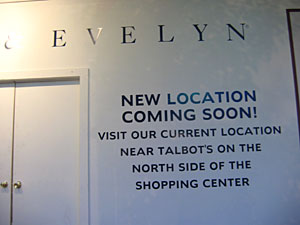 It looks like Crabtree & Evelyn may be positioning for a higher traffic spot in Old Orchard, as they've announced that their moving from Fountain Court to The Park. This is near a primary entrance to the mall as well as the theaters, so I would imagine that you'll see more folks around this area when compared to their previous location. In the meantime, their old location has closed and they have a temporary spot in Vacancy Alley, my nickname for The Promenade. No official word has been given regarding when their new space will open.

Posted by Tannerman at 04:31 PM | Categories: Fountain Court | Old Orchard | Relocation | The Park
Now Open: Lacoste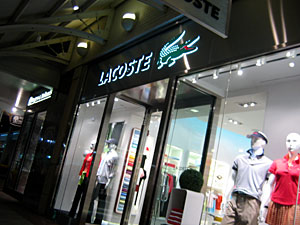 The Croc has ripped through those temporary barricades and opened! It's situated in a pretty cozy location in The Garden (next to the new Rogers & Hollands, maybe even in their old location), one of my more favorite "off the main path" parts of Old Orchard. Hopefully this tucked-away location will provide them enough food traffic to succeed.

Posted by Tannerman at 04:13 PM | Categories: Now Open | Old Orchard | The Garden
Now Open: Landau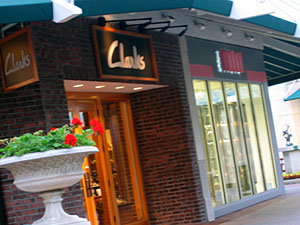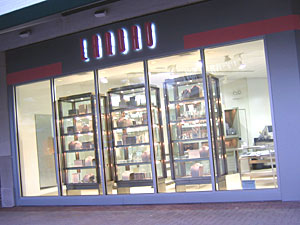 It's time for an update on the fake jewelry folks at Landau. Their new store is now open on the corner of Pear Lane and Fountain Court, located right next to Clarks, a shoe retailer. The store seems, well, out of place if you ask me. I also think they aren't taking advantage of their window space very well. Perhaps that will change as they get operations going. We'll see. With Clarks and Landau open, there is only one more store on this corner that needs to shed the construction walls: H2O Plus.

Posted by Tannerman at 04:07 PM | Categories: Fountain Court | Now Open | Old Orchard | Pear Lane
Now Open: Liberty Travel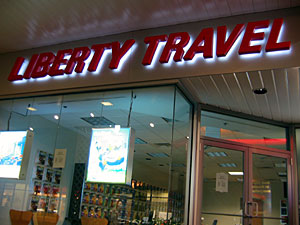 The construction walls are gone! Liberty Travel recently opened up their new story, located on Hawthorne Way. Frankly, it's a bland looking store that doesn't seem to have much design or class at all. It sort of looks like a Kinko's or UPS Store, as a matter of fact. Probably the only redeeming quality of the location is that there was a Disneyland 50th Anniversary poster in the window when we walked by. It's situated right next to Potbelly's and the movie theatre... I wouldn't think a very prime location for a travel agency. Go figure.

Posted by Tannerman at 03:59 PM | Categories: Hawthorne Way | Now Open | Old Orchard
Forth & Towne coming to Old Orchard
Back in May, we at the Observer discussed the possibility of Old Orchard being a test site for one of Gap's new store concepts, Forth & Towne. Well guess what? We were right!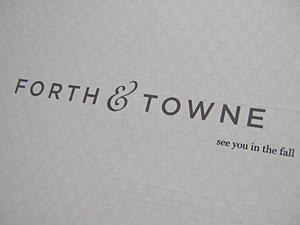 A few months ago, Z Gallerie vacated their two-story store located in The Promenade, right next to the soon-to-be-closed Saks Fifth Avenue. Shortly thereafter, construction walls went up, but no mention was made regarding a replacement. We speculated regarding what would replace this store and whether or not it would take up all the square footage on both floors or if it would be subdivided.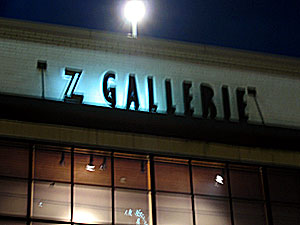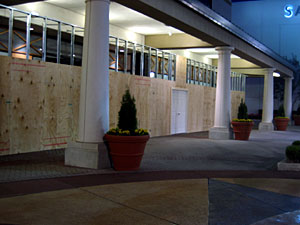 Not too long after, a listing on HotJobs.com [thanks Chicagoist!] revealed that the four locations slated for Illinois were Old Orchard, Woodfield (Schaumburg, IL), Fox Valley (Aurora, IL -- and another Westfield zombie), and Algonquin Commons (Algonquin, IL).
We then saw officially labeling on the walls at Old Orchard, formally announcing that Forth & Towne would be arriving in the fall. What's interesting is that Gap still hasn't launched a website destination for this new concept (however they have reserved "forthandtowne.com", so I guess that will be coming soon).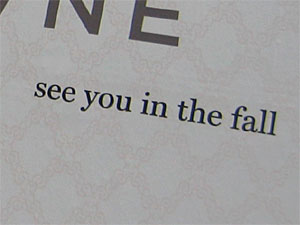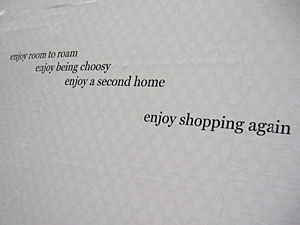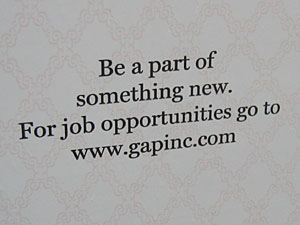 What remains to be seen is whether Forth & Towne will occupy both floors of the old Z Gallerie space. It does appear that they are doing demolition/construction work to both parts at the same time, so my gut is yes. Keep it tuned right here on the Old Orchard Observer for future developments!
Posted by Tannerman at 03:49 PM | Categories: Coming Soon | Old Orchard | Other Malls | The Promenade
Outside the Orchard - 06.29.05
That's right, there's been more activity in the blogging world regarding Old Orchard. Like our first Outside the Orchard installment, we'll keep you up-to-date on the buzz...
LiveJournal user sialagogue writes in I love it, but I hate the taste [Saturday, June 25]:
Doug went to Old Orchard with some people...
I hope Doug had a good time!
Meanwhile, on Dear Knucklehead, Mike provides his thoughts regarding those who hang out at Old Orchard, based on his observations at the Howard L station [Monday, June 27]:
As Howard is the terminal point of one train line and the starting point for two others, the collection of people here is somewhat more diverse than you'll find elsewhere. Guys from the South side who work in the Skokie industrial corridor, college students on their way to Northwestern, thugs with nothing else to do spending some time at the Old Orchard mall, upperclass folks on their way to a Cubs game or downtown for their twice-a-year el ride. And I'm always surprised at the number of people who are on their way to the Skokie courthouse.

Being commuters of various sorts who have their own destinations and goals in mind, there isn't much mixing, but I notice that people there tend to gravitate to and stand by their peers. With the exception of college students who are constantly hitting on each other, there's no real interaction between many of these groups.
Leah in Chicago is just happy that Nordstorm provides lots of shoe sizes [Sunday, June 5]:
Then it was time for shoes. Oy. Shoes are a weakness, which is hard when you wear an 11. But we hit DSW and searched for a brown shoe in an 11. If I didn't find it, I wasn't going to allow myself the purple Franco Sarto mules. The brown shoe didn't materialize, but a sexy (and I mean sexy) Kenneth Cole black pump did. Yum.

From there is was to Old Orchard -- to Nordstrom's, because they carry size 11s. Alas, brown is not in for the summer and there were no brown pumps in size 11 in the house. On a whim, we popped into Aldo's and I asked the sales girl (with a TON of attitude on my part), "do you even carry an eleven?" "In some shoes." "In this one?" Attitude, attitude, attitude. All from me, not from the salesgirl. I am so used to not being served that I assume they can't/won't help me.

To my surprise she came back with a box and handed it over. "Um, what about these shoes?" She had those too! I walked out with one great pair of tan pumps and headed towards Steve Madden. Just to make sure I was happy with what I had.
It's one thing to travel to the mall to get shoes. It's completely another to travel to Old Orchard only to find a restaurant not open, such as what angelkutty wrote about on Echo Park [Monday, June 13]:
...finally we decide to go to Champs in Old Orchard to watch Game 2 of the NBA finals. we go to Old Orchard and the Champs is under construction, so we just decide to go to Buffalo Wild Wings in Skokie.
Now, I have no record of Champps (note that's spelled with two P's officially) being rennovated or anything like this, so this was just an odd remark. That said, I've been to both Champps and the Buffalo Wild Wings mentioned... the wings were the better choice anyway!
Finally, recent Northwestern University (Evanston, IL, very close to Old Orchard) grad Ashley is spending a year in Japan as an English teacher, posting her adventures via The World of Ashley. Apparently, the Old Orchard "style" is evident on the other side of the world [Monday, June 27]:
...yesterday I went with a group of people to an American style outlet mall - that looked exactly like Old Orchard! trippy.
Posted by Tannerman at 09:35 AM | Categories: Outside the Orchard | Westfield
June 27, 2005
Outside the Orchard - 06.27.05
Every now and then, I like to see what other blogs are writing about in reference to Old Orchard. Outside the Orchard is a recurring feature that takes a look at this online conversation! We keep tabs on Old Orchard conversation... because no one else is crazy enough to!
Like myself, Doodlehead doesn't like Old Orchard's Westfieldized name [Sunday, May 8]:
This morning I stopped by the Apple Store at Westfield Shoppingtown's Old Orchard (I say the full name since it displeases me so)...
Chicago Sun-Times columnist Neil Steinberg offered his take on the news that Old Orchard was looking at expanding [Wednesday, June 8]:
For your shopping convenience

Old Orchard is expanding? It's not big enough? As anyone who has ever gone to the massive outdoor mall in Skokie -- or tried to -- knows the place is enormous already, sprawling and jammed with customers. You'd think they were giving stuff away, as opposed to charging for it.

Hence, I suppose, the expansion. Some days the parking lot is completely filled.

To be fair, Old Orchard does have the benefit of being outdoors -- you don't get that suffocating, get-me-outta-here feeling that can come over you after too long in an enclosed mall, a condition I call "mall burn." Still, you can't look at the packs of disaffected teens drifting through it on a Friday night, for want of anything better to do, and not wonder what our country has come to.
This, of course, generated feedback in the blogosphere, such as this post over at Mental Multivitamin [Wednesday, June 8]:
Ayup.

Reminds me of a mall story and a recommendation.
The Old Orchard expansion story has prompted many folks to more seriously compare Woodfield (the largest mall in Chicagoland) with our Skokie outdoor shopping center. In many cases, such as on Blob Dog Attacks Geordi, there is no comparision [Tuesday, June 7]:
I hate Woodfield. While it has a great Apple Store (the first in Chicagoland) among other stores, I can't stand Woodfield. Perhaps I was too spoiled when I lived near the more generally upscale Old Orchard and Northbrook Court, but I hate that Woodfield is the closest mall to me now... Now, I read that Old Orchard and other malls are contemplating facelifts with nary a mention of Woodfield. This mall I'm stuck with might be in its current state for a long time.
I've never seen the movie Mean Girls, but apparently LiveJournal user hyperfocused has. She writes in her blog The Occasional Poet Dreams of Stardom [Sunday, June 5]:
Watched Mean Girls for the first time today. I hadn't realized it was set on the North Shore, more specifically at Evanston Township High... The mentions of Old Orchard Mall and Walker Brothers pancakes had me feeling nostalgic for my youth, though the movie itself made me damn glad I was 37 not 17.
Speaking of LiveJournal, user rebel_prince15 writes in his blog about the hunt for a piece of furniture [Saturday, June 4]:
Water Tower Place had more stores in it. C bought a FOM pillow he saw and I wanted the puzzle cube ottoman at Old Orchard. It's $375, maybe someday I can buy it. Ha!
Amy and I wondered where you could buy a puzzle cube ottoman up at Old Orchard. I'm thinking either Pottery Barn or one of the anchor stores. Who knows?
So, as you can see, I'm not the only weirdo who writes about Old Orchard out there!
Posted by Tannerman at 06:43 PM | Comments (0) | Categories: Other Malls | Outside the Orchard | Westfield
June 22, 2005
Saks selloff could harm State Street

Saks continues to shop around their Carson Pirie Scott chain for new buyers. As previously reported, the company has already sold off their southern department stores division (Proffitt's, McRae's) to Belk, Inc. They are looking to find a home for their northern stores as well, intending to focus solely on their flagship brand, Saks Fifth Avenue (which will be leaving Old Orchard at the end of July) and Parisian, which offers merchandise slightly above the level of its mid-range department store chains.
The northern group of stores up for sale includes Boston Store (WI), Carson Pirie Scott (IL, IN), Herberger's (CO, IA, MN, MT, NB, ND, SD, WI, WY), Bergner's (IL), and Younkers (IA, IL, MI, MN, NB, SD, WI), as well as Club Libby Lu.
Of interest to those in the Chicago area is how this potential sale will affect the retail landscape on State Street. Our sister blog, SteveandAmySly.com has been chronicling the State Street Christmas Windows produced by the "big 3" on State Street: Marshall Field's, Carson Pirie Scott, and Sears. An exit by Carson's would not only make their window displays disappear (which have been quite lame over the past few years anyway), but also provide a potential lack of shopping downtown. The Chicago Sun-Times has more details on this development:
Renewed speculation on Carson's Loop site
June 21, 2005
BY SANDRA GUY Business Reporter

Carson Pirie Scott's parent company, Saks Inc., took new steps Monday to hold off its debtors, and speculation bubbled about the future of the Carson's store on State Street.

Saks is trying to sell the Carson's department store chain, and that could open up new possibilities for the historic Carson building at 1 S. State.

The building's owner, Joseph Freed and Associates LLC, has built a reputation as a developer of mixed-use projects such as the Arlington Town Square with Ann Taylor Lofts, Jos. A. Bank Clothiers, California Pizza Kitchen and a six-screen movie theater.

"There's unlimited numbers of things you could do [with the Carson's store on State Street]," although condos would never work, said Jeff Renkert, Freed's vice president of marketing.

The space is too cumbersome and the building's landmark designation too restrictive for condos, he said.

The building, a masterwork designed by Louis Sullivan, could keep a scaled-down Carson's store and open up space for specialty boutiques, or it could house a new retailer altogether, even a big-box retailer such as Target.

Other possible tenants include a grocery store to serve the many new residents living downtown, and a student center for the 55,000 college students who attend classes in the State Street corridor, said Ty Tabing, executive director of the Chicago Loop Alliance, formerly the Greater State Street Council.

A $17 million upgrade of the 600,000-square-foot Carson's store heightens the possibility that new tenants will move in. The building's original cornice is being replaced, and the floors, elevator banks, communications systems and heating-and-air-conditioning systems upgraded. Another 400,000 square feet is occupied by offices.

Retail experts have argued that State Street required three "anchor" department stores to attract shoppers, and those anchors are Carson's, Marshall Field's and Sears, Tabing said.

"With Block 37 coming, a new anchor could emerge," he said, referring to retailers that will be part of the planned redevelopment of the long-vacant parcel between Field's and the Daley Center.

Furthermore, new retail could better serve the residential development springing up around the Carson's building: A 33-story condo building is going up on the Walgreens site at State and Randolph, a condo tower is proposed behind buildings at 21-39 S. Wabash, and people already live above H&M, Nordstrom Rack and the Children's Place on State Street.

Retail analyst Lois Huff said a private-equity firm such as Bain Capital, which is rumored to be a potential bidder for the Carson Pirie Scott chain, would look to make money from Carson's real estate.

"The downtown store is, at best, a store that could stand some reinvention, but it is great real estate," said Huff, senior vice president of Retail Forward, a Columbus, Ohio-based retail strategy consulting firm.

Carson's, along with other mid-tier department stores, is stuck in an untenable position between discounters such as Target and Wal-Mart and fashionable luxury stores such as Bloomingdale's, Nordstrom, Neiman Marcus and Saks Fifth Avenue, Huff said.

"The Carson's [on State Street] would be extremely vulnerable for Carson Pirie Scott, but extremely attractive" for a new owner looking to profit from its real estate, she said.

Meanwhile, Saks Inc. announced Thursday that it would offer its bondholders a special payment to persuade them not to force Saks to default on $1.22 billion in debt.

Saks now wants another two months, until Oct. 31, to file its financial statements with federal regulators. Saks is being investigated by federal authorities for allegedly improperly collecting $20 million in vendor markdowns in its 1999-2003 fiscal years. Stores take markdowns when goods don't sell at full price, and they ask their suppliers to eat some of the cost.
Source: Chicago Sun-Times
Posted by Tannerman at 11:46 AM | Categories: Anchors
June 20, 2005
Field's Watch: Name may stay after merger?

A recent article in the Chicago Tribune provides hope that the Marshall Field's name will remain after the Federated-May merger is completed. According to the article, the Lord & Taylor name may be the one to get the ax instead. We'll see.

Field's likely to keep its name
By Becky Yerak
Tribune staff reporter
Published June 18, 2005

The chances that the Marshall Field's name will survive might be better than expected, according to two Wall Street analysts.

When Federated Department Stores Inc. announced plans in February to buy May Department Stores Co., some retail observers said the deal spelled doom for the Field's name, a Chicago-born chain owned by May.

Federated has a track record of changing the names of its regional department stores to Macy's. The May acquisition is expected to close in the third quarter.

Two retail analysts expressed optimism, however, about the future of the Field's name in a Women's Wear Daily report on Friday about the New York flagship of Lord & Taylor, another May asset.

"The L&T banner is not going to be the one that survives," Citibank Smith Barney analyst Deborah Weinswig told the trade publication. "Marshall Field's has been chosen as the one to survive."

Weinswig couldn't be reached Friday to elaborate.

Also in the article, Deutsche Bank analyst Bill Dreher noted Field's "tremendous following."

"I wouldn't expect Federated to move away from that name but rather expand it in the Midwest," he said.

A Federated spokeswoman would not comment on the report. "We've got nothing to say on that right now," she told the Tribune on Friday.
Source: Chicago Tribune
Posted by Tannerman at 09:56 AM | Categories: Anchors
June 08, 2005
Sunset at Old Orchard
Sometimes, a pre-summer night visit to Old Orchard reveals unexpected beauty...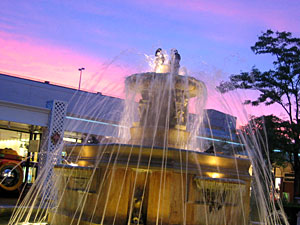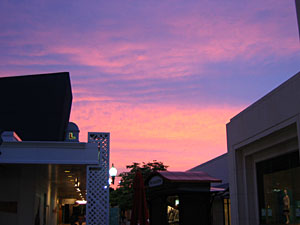 Posted by Tannerman at 11:06 PM | Categories: Fountain Court | Pear Lane
June 06, 2005
Proposed Expansion: Old Orchard Goes Lifestyle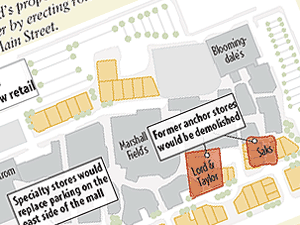 Here at the Old Orchard Observer, we've talked about consolidation in the retail industry, especially as it pertains to mall anchors. With Marshall Field's being acquired by Federated, 3 out of 5 anchors at Old Orchard will be owned by the same company. Then just last week it was announced that Saks Inc. would be closing the Saks Fifth Avenue store at the mall, resulting in another unknown for Old Orchard Center. In short, anchors are going to be lost. So what do you do instead?
Traditionally, large malls have been built on the assumption that anchors draw you to the center. Hence the label, "anchor." Often, the appeal of a mall has been built on what anchor stores are present. From a business perspective, rent and leasing rates are determined based on the number and size of the anchors in a mall.
But in case you haven't noticed, there aren't enough anchors to go around these days. There is consolidation, like what is taking place with Federated and May. There is a change in strategy, like what you see in Sears moving away from mall-based stores. There is a downsizing and focus on profitable stores, evident in what took place last week with Saks; J. C. Penney is also a good example here. And of course there is the loss of anchors altogether, as in Montgomery Wards and the like.
This has created a void for traditional malls as they try to figure out what to do. Many have chosen to go with somewhat alternative anchors. For example, the mall I used to work at, Randhurst (Mt. Prospect, IL), recently built a Costco as a part of the mall. Here in the city, unique architecture has allowed traditional "all in one stores" stores like Target to serve as anchors.
The growth of big boxes (Wal-Mart, Target, warehouse clubs, etc.) and category killers (Best Buy, Barnes & Noble, Home Depot, etc.) has changed the way people shop. It also is changing the world of mall design and planning. Unfortunately, malls are large and heavy on infrastructure... you can't easily change course and reconfigure.
Sometimes there are exceptions, such as Brickyard Mall, a local mall I grew up with here in the city. It was a large, two-story, indoor mall that basically outlived its usefulness. It recently reopened after being completely torn down and rebuilt as The Brickyard, an outdoor center with a mix of big box retailers and specialty stores. So far, it's been quite a success story.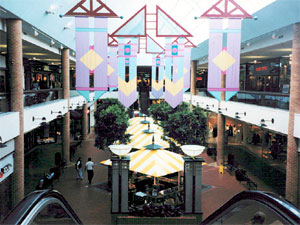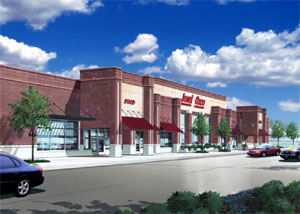 Other local shopping centers are shooting to become lifestyle centers, the big buzzword in retail these days. A lifestyle center is typically an open-air shopping center that doesn't really feature anchors. Instead, the mix of stores comes more from the specialty retail/boutique side of things. Often they are modeled to look like small towns, full of sidewalks, park-like places, and common areas. They don't require as much space as a large indoor mall and they offer convenience to a typically affluent shopper, as they can just park their oversized SUV nearby and quickly shop.

The "lifestyle center" concept was pioneered by Poag & McEwen with the construction of The Shops of Saddle Creek in Germantown, TN, in 1987. My current employer is located near another lifestyle center that recently opened, 500,000 sq. ft. Deer Park Town Center in suburban Chicago.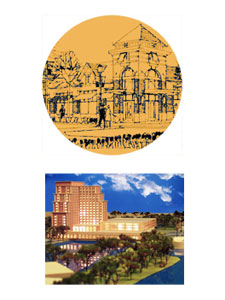 So what do you do when you are a traditional mall, you are losing anchors, and the trend seems to be towards lifestyle centers? Well, you build a hybrid! Last July, a suburban mall called Yorktown Center (previously the home of Big Idea) announced that they were going to tear down some vacant anchor space (formerly populated by Montgomery Wards) and build a lifestyle center concept called The Shops on Butterfield. Uniquely, this development would actually connect with the existing traditional indoor mall and feature an attached hotel. It will be interesting to see how that plays out, as the new development is set to open in 2006.
Even knowing these trends, I was shocked today when I read the following story in Crain's Chicago Business regarding what may happen to Old Orchard down the road. I guess the concept makes sense when you think about it...
Continue reading "Proposed Expansion: Old Orchard Goes Lifestyle"
Posted by Tannerman at 10:38 PM | Categories: Anchors | Mall Info | News | Other Malls | Westfield
June 03, 2005
More on the "Shoppingtown" branding change
Tampa Bay-area (FL) blogger Costa Tsiokos adds more ongoing commentary about Westfield's stupidiy regarding the "Shoppingtown" name via PopulationStatistic.com. Tsiokos references this St. Petersburg Times article from May 8, 2002:
Forget the mall; now it's 'shoppingtown'
By MARK ALBRIGHT and CHRISTINA K. COSDON
May 8, 2002

Three of the Tampa Bay area's largest malls have new Australian owners. Now they're getting new names.

Westfield Group, which this week completed its purchase of Brandon TownCenter, Citrus Park Town Center and Countryside Mall, is adding "shoppingtown" to those names.

"We've called our properties in Australia 'shoppingtowns' since the 1960s," said Stephen Fluhr, general manager of newly renamed Westfield Shoppingtown Brandon. "In Australia, a mall is a shoppingtown."

Work crews this week began sticking the new names on doors and customer service booths at the malls, whose new names include Westfield Shoppingtown Citrus Park and Westfield Shoppingtown Countryside. Eventually pylon signs at mall entrances will be changed to match the rest of the company's portfolio of 61 U.S. malls and shopping centers.

Not everybody's a fan of the new names. "My wife just called and said people are up in arms," said Clearwater Mayor Brian Aungst, "The mall is not moving out of Countryside, is it? To me, Countryside Mall is a perfect name. This is a dumb idea."...

The name changes mark the latest attempt by mall owners to use their real estate holdings to promote their corporate brand. The effort spread once the companies became publicly traded stocks.

Simon Property Group of Indianapolis has plastered its name all over the parking lots and doors of its Tyrone Square, Gulf View Square and Crystal River malls. Prime Retail Inc. of Baltimore added the name at its Prime Outlets Ellenton property. Mills Corp. of Arlington, Va., which owns Sawgrass Mills in Broward County, puts its corporate monicker in all of its outlet mall names.
Contrast this with the "about face" that Westfield is doing, noted in this June 1, 2005 St. Petersburg Times article:
If you didn't call them 'shoppingtowns,' don't
By MARK ALBRIGHT, Times Staff Writer
June 1, 2005

Westfield Group has stopped calling its U.S. malls "shoppingtowns."

The Australian developer, which drew a lot of attention with the unusual monicker when the company made landfall in the states three years ago, began phasing it out May 1.

With no fanfare, the owner of three malls in the Tampa Bay area stopped ordering business cards, signs, brochures and other materials that make any reference to "shoppingtown."

"We won't be taking down signs to change the name, you just won't see us putting it on replacements as time goes by," said Catherine Dickey, spokeswoman for the chain. "The name served its purpose."

While rival malls in the market have made "mall" or "plaza" part of their formal name, Westfield did not. So the three local malls now will be called Westfield Citrus Park, Westfield Brandon and Westfield Countryside. "People know they are malls," Dickey said.

Westfield imported the "shoppingtown" label for its U.S. properties from what they are called in Australia. One reason was to send a signal to shoppers that things had changed at their nearby mall. Many shoppers never picked up the hint or ignored it. But Westfield officials are unconcerned that "shoppingtown" never became a household word.

"Shoppingtown is part of our heritage, but Westfield is the brand," Dickey said.
Westfield could have saved themselves a lot of money if they just would have looked at the U.S. market and note that, well, malls are called malls! I swear that company is run by idiots.
Posted by Tannerman at 12:16 PM | Categories: Other Malls | Westfield
May 27, 2005
Saks closing at Old Orchard

Last month, I speculated about the anchor situation at Old Orchard, given the pending merger of Federated and May. Who would have expected that the anchor to make the first move would actually be Saks Fifth Avenue, which has announced that they are closing their Old Orchard location at the end of July.
Recently, the parent of Saks (Saks Incorporated) started the process of unloading chains in the company portfolio that didn't quite fit with their preferred direction. Recently, they sold off their southern department stores division (Proffitt's, McRae's) to Belk, Inc., which operates stores in the Southeast and Midwest. They have also expressed an interest in selling off all or parts of their northern department store division, which would include Chicago's own Carson Pirie Scott.
It seems the strategy that Saks is taking involved breathing new life into their Saks Fifth Avenue stores, stepping up to compete with Federated Macy's and Bloomingdale's. According to the Chicago Sun-Times, "The Saks Fifth Avenue store, a major presence at 72,000 square feet, opened at Old Orchard 27 years ago. The Off 5th store, measuring 33,000 square feet, opened two years ago... Saks' new focus centers on Saks Fifth Avenue stores that average 100,000 square feet."
Here's the official press release about the closing:
Saks Fifth Avenue and Off 5th to Close in Skokie, Ill.
May 26, 2005

NEW YORK--(BUSINESS WIRE)--May 26, 2005--Saks Fifth Avenue Enterprises ("SFAE"), a business segment of retailer Saks Incorporated (NYSE: SKS) ("Saks" or the "Company"), today announced it plans to close its 72,000 square foot Saks Fifth Avenue store and its 33,000 square foot Saks Off 5th store, both located in the Old Orchard Shopping Center in Skokie, Illinois (metropolitan Chicago). The stores are expected to close by the end of July 2005. Both locations are leased.

Fred Wilson, Chairman and Chief Executive Officer of Saks Fifth Avenue Enterprises, commented, "This announcement is consistent with our strategy of focusing our energy and resources on our larger and more productive units. We remain very committed to metropolitan Chicago, and we will be able to enhance our merchandise assortments and service offerings at both our flagship Saks Fifth Avenue Michigan Avenue store and our Highland Park location in order to better serve our many loyal Chicago-area customers."

SFAE also will continue to operate its two other Off 5th stores in metropolitan Chicago, located at Gurnee Mills and Woodfield Village.

Approximately 70 associates are employed in the Old Orchard Saks Fifth Avenue store, and approximately 50 associates are employed in the Off 5th location. All affected associates either will be offered transfer opportunities or will receive appropriate severance packages. "We are very grateful for the dedicated Old Orchard team, and we will make every effort to provide needed assistance to our associates during this period," Wilson continued.

Saks Incorporated operates Saks Fifth Avenue Enterprises (SFAE), which consists of 57 Saks Fifth Avenue stores, 52 Saks Off 5th stores, and saks.com. The Company also operates its Saks Department Store Group (SDSG) with 232 department stores under the names of Parisian, Proffitt's, McRae's, Younkers, Herberger's, Carson Pirie Scott, Bergner's, and Boston Store and 43 Club Libby Lu specialty stores. On April 29, 2005, the Company announced that it had entered into an agreement to sell 22 Proffitt's stores and 25 McRae's stores to Belk, Inc. The sale is subject to various closing conditions, including the expiration or termination of all waiting periods under the Hart-Scott-Rodino Antitrust Improvements Act. The Company expects to complete the sale in the second quarter of 2005.
Now the speculation can begin regarding what Westfield will do to fill this vacant space. Saks is located at the northern tip of the mall, covering the already dead and highly-vacant section known as The Promenade. This is a huge blow to occupancy rates.
But, as the Sun-Times recaps, "Old Orchard, whose owner recently dropped the name 'Shoppingtown,' is no stranger to change. Ten years ago, Chicago investor Sam Zell led a $100 million renovation and expansion that resulted in a shift toward more luxury stores. Bloomingdale's opened at the center, and Nordstrom replaced Montgomery Ward."
Posted by Tannerman at 10:59 AM | Categories: Anchors | The Promenade
May 26, 2005
Fountain + Person = Good
Remember what security told me about taking photos at Old Orchard? Here's a refresher:
If you are taking a photo of another person outside while in the mall, that is allowed.
I discovered an Old Orchard photo on Flickr today that took advantage of this somewhat obscure, undocumented policy. The author from Madison, WI, simply captions, "Old Orchard is a GREAT mall!"
This photo was taken at the fountain found in The Promenade section of the shopping center, which sits on the north end.
Posted by Tannerman at 04:45 PM | Categories: The Promenade
May 19, 2005
Signage migration begins at Old Orchard
During a recent trip to Old Orchard, Amy and I noticed that Westfield has begun the promised removal of the word "Shoppingtown" from their branding.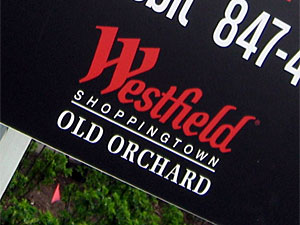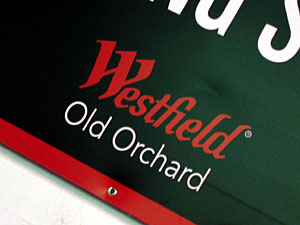 Besides cutting down the official name to something shorter, the new branding also changes the font used to spell the mall name, in this case "Old Orchard." A horizontal white line has also been removed. According to my graphic designer friend Chris Arndt of Arndt Design, "what's distinctive about the new font is the 'r' and 'a'. It's clean and contemporary. Part of the class is going from upper case to title case." So there you have it!
Posted by Tannerman at 02:34 PM | Categories: Mall Info | Westfield
May 16, 2005
Sometimes the "Westfield" sticks, sometimes it doesn't
Today I came across a rather juvenile blog post by a high school senior who, based on the context of her postings, must live in the Chicagoland area. Using the rather insanely hard-to-read text messaging-format of writing, she talks about going to the mall with a friend, and in turn compares the mall to Old Orchard:
ok so i had to wake up at 10:00 cuz asma's friend had a b-day party at the westfield mall which is 40 minz away, at BUILD-A-BEAR...so we decided to take her there n jus hang out...n omg that build-a-bear place is sooo cool... i jus walked around at the mall n checked out a few thingz n omg itz huge n itz niiice...itz one of the best mallz, better than lincolnwood n old orchard...n they had the cutest clothez EVER!!!
Based on the geography mentioned and Build-A-Bear store locations, I assume that this author visited either Hawthorn Center (Vernon Hills, IL) or Fox Valley Center (Aurora, IL).

What I find interesting about her blog post is that while she refers to the mall she visited as "the westfield mall," she later describes two other north-of-Chicago shopping centers by name, "lincolnwood" (as in Lincolnwood Town Center, Lincolnwood, IL - owned by Simon) and, of course, "old orchard" (as in Westfield Shoppingtown Old Orchard, Skokie, IL).

What's unique about this is that this author inadvertently uncovered what the biggest problem is with the Westfield rebranding campaign... it attempts to reprogram the human need for short description of a place/location. You see it happen with sports stadiums all the time, where fans ignore the ridiculously long corporate names attached to stadiums in favor of a short version, minus the branding. For example, in Chicago, the United Center is often referred to as "the UC." U.S. Cellular Field is called "the Cell" or, even better, "Sox Park" or the traditional "Comisky Park."

The author above shows how simple use of the words "lincolnwood" and "old orchard" in the context of malls is all you need. What is contrasting with this argument, however, is that she calls the shopping center she actually visited simply as "the westfield mall." Talk about branding confusion!
Posted by Tannerman at 12:42 PM | Categories: Other Malls | Westfield
May 13, 2005
MSNBC = Westfield Shoppingtown?
Over on Joe Sherlock's blog, he humorously comments that he "read last week that MSNBC is changing its name. Maybe it will be renamed Westfield Shoppingtown."
Ouch. You see, Westfield, you are earning a bad, bad reputation! Knock it off already.
(Oh, and for those wondering, "MSNBC" is rumored to be renamed "NBC News Channel", pending NBC terminating their partnership with Microsoft).
Posted by Tannerman at 07:32 PM | Categories: Westfield
May 11, 2005
Discovering Gymboree Play & Music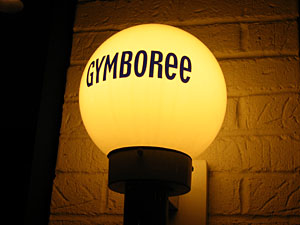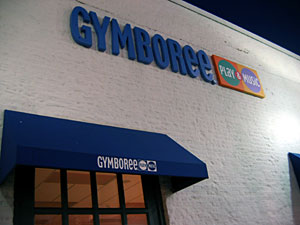 On a recent visit to Old Orchard, Amy and I discovered a storefront we had not noticed before. Tucked away in a hidden walkway off The Promenade is Gymboree Play & Music. It's not really a retail storefront; rather it's more of a daycare-type facility that is probably using previous office space that was unleased.
Apparently the chain was started in California in 1976 by a lady who was looking for a "safe, fun and nurturing place for new parents and children to play together." (I wonder if Gymboree owned this back then or if it was a buyout later).
In any case, she started up this concept which offered parent/child programs devoted to the "physical, emotional and social development of children." Now, I guess they are some sort of big name in this field, even though I've never heard of the spin-off (of course, we don't have kids either). There are now over 530 locations in 27 countries.
Let me just tell you that it isn't cheap to go here. According to their brochure, 6 weeks will cost you close to $100 on their "Ultimate Flexibility" plan. And with only 3 locations in the Chicago area (Arlington Heights and Northbook are the others), you don't have many competitive options. That said, they seem to offer quite a diverse mix of times, days, and classes for ages 6 months through 5 years.

Posted by Tannerman at 07:06 PM | Categories: The Promenade
Westfield Web Watch: Macy's Hate
Since Old Orchard is owned by real estate giant, it's often helpful to keep tabs on what others are saying about the parent company. As it currently stands, Westfield operates more than 120 shopping centers in four countries, providing about 29 million square feet of space. Company trends and observations found elsewhere may add insights to the future of Old Orchard. The Westfield Web Watch is a recurring feature that takes a look at this online conversation!
Pasiphae rants about corporate name changes, namely the renaming of Bon Marché to Macy's, which may foreshadow what we will experience at Old Orchard and the Marshall Field's name. Interestingly, like so many others, the author is not so happy with the whole "Westfield Shoppingtown" branding either:
... And now you're dropping "Bon" all together and just making it Macy's. You know what? I don't want to shop at "Macy's." If I go into your store it will be to shop at the Bon. I'm going to continue to call your store the Bon. Which won't be any different than what I've been calling it these past few years, because I can't think of ANYONE that calls your store by its stupid "official" name in regular conversation. So much for corporate strategy, huh?

It's gonna be an uphill battle to get us to stop calling it the Bon. Just like we refuse to call Southcenter Mall by the ridiculous, [screwed] up name "Westfield Shoppingtown Southcenter" [Seattle, WA]. Nobody calls it that.
Posted by Tannerman at 06:42 PM | Categories: Other Malls | Westfield
More Anti-Shoppingtown Fun!
Following up a report about a Westfield property in Wilmington, NC dropping "Shoppingtown" from their name is this article from The Desert Sun (Palm Springs, CA):
Westfield mall to ditch 'Shoppingtown' moniker
Chris Bagley
The Desert Sun
May 11, 2005

For many it's been a tongue twister, for others a puzzlement and now, for all, it will be no more.

Westfield Shoppingtown Palm Desert is becoming just plain Westfield Palm Desert.

Australian mall owner Westfield will drop the word "Shoppingtown" not only in Palm Desert but at most of its 66 other shopping centers in the United States, company officials said Tuesday.

While the "Shoppingtown" appellation is common in Australia it never took off in the United States, a company spokesman said.

The malls will change their logos over many months, said Laurel Munson, an official in the company's Los Angeles-based U.S. division. New logos could show up first on business cards and doors.

Signs on buildings and stone monuments would likely be the last to drop the word, Munson said. She said a specific timetable for altering the signs was not known. "Obviously it's going to take time," Munson said.

An administrative assistant in Palm Desert said the name change would become apparent as the mall routinely replaces signs, food-court trays and other items. The mall hasn't yet changed anything, the employee said.

The company added "Shoppingtown" to its U.S. locations about five years ago, Munson said, as it expanded its U.S. presence. The current rebranding isn't part of a larger marketing effort.

Westfield acquired its first U.S. center in Trumbull, Conn., in 1977. It acquired the Palm Desert shopping center in 1999.
Source: The Desert Sun
Posted by Tannerman at 04:57 PM | Categories: Other Malls | Westfield
May 09, 2005
Security doesn't like photos
I came across this Old Orchard photo on Flickr today, a community-oriented photo-sharing website. I had to chuckle at the description the author provided:
As I took these pictures, solely focusing on the dead or dying flowers, several security guards passed me, looking mystified and slightly alarmed.
Those Westfield Mall Cops sure get freaked out for no reason!
Posted by Tannerman at 09:28 AM | Categories: Mall Info
May 07, 2005
About the Professional Building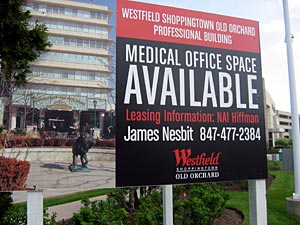 Hey, are you looking for office space? Perhaps you are opening a dental practice... or something medical like that. I guess Old Orchard has medical office space in their Professional Building. Yeah, it's so true! Now you can go to work and then shop the mall on your breaks. Not many people have that sort of opportunity (well, I did when I worked at Randhurst, but that's another story).
According to the sign in the Old Orchard parking lot, leasing for the Professional Building is handled by NAI Hiffman, the Chicago area representative for NAI – the world's largest commercial real estate organization (or so they say on their website). NAI Hiffman is the largest full-service, privately owned real estate services firm in the Midwest. How exciting!
Oh, it gets better. Here's what they proclaim: "We deliver results that combine our best real estate practices with your strategic business goals. Every professional service that we provide is focused on your bottom line. We view real estate as a dynamic road map that leads our services to your needs. Wherever you need to be, NAI Hiffman is already there." Wow, you can't lose with these guys!

Believe it or not, the Professional Building actually looked a little different just a few years ago. I don't if anything has changed on the inside, but the exterior has undergone some noticeable changes.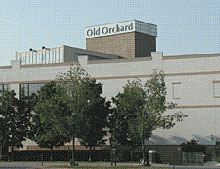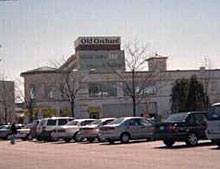 Before the Westfield Borg took over Old Orchard Center ("You will be assimilated – resistance is futile"), the top of the Professional Building displayed the words "Old Orchard" in such a way that you could locate the mall from miles away. It was a grand icon.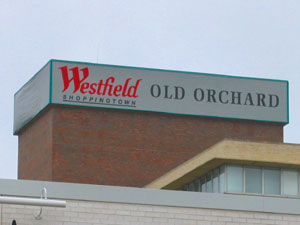 Since the Westfield takeover, however, a new sign proclaiming "Westfield Shoppingtown Old Orchard" now caps the 8-story building. I think this might be a cloth-based sign with lights behind it, as I've seen it ripple in the wind on occasion.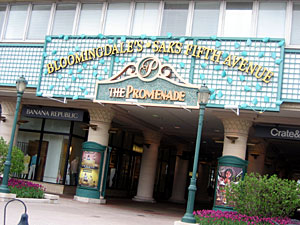 The building itself straddles the open-air walkway of the mall below, technically falling in The Promenade section of Old Orchard. Directly underneath the building lies Crate & Barrel, Starbucks, and Banana Republic. Surprisingly, there is a cozy feeling when you are underneath the building. The decor isn't so sterile as to turn you away, but it's not all warm and fuzzy either.
The building is located on the north side of the shopping center. Interestingly, it possesses its own underground parking garage that can be found on the Old Orchard Road side of the mall, right near Bloomingdales. I've never set foot in either the Professional Building itself or the parking garage. Maybe one of these days...

Posted by Tannerman at 06:57 PM | Categories: Professional Building | The Promenade
May 06, 2005
"Why are there 2 Sunglass Huts?"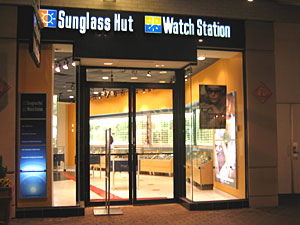 A few weeks ago, we were walking through Old Orchard and Amy commented, "why are there two Sunglass Huts?" And doing a double-take, she was right? There was a stand-alone store on the north side of Pear Lane, and a combination Sunglass Hut/Watch Station on the south side of Pear Lane.
However, as of Wednesday night, there is now only the combination location, because a demolition crew was there gutting the stand-alone store. By the next day, there were construction walls around the space. What was odd is that demolition was actually taking place during mall operating hours, typically a no-no for liability and aesthetic reasons. But apparently, Westfield doesn't care about such things.
Sunglass Hut/Watch Station are owned by Luxottica Group, which is also the parent of LensCrafters, among other things. It's the largest retailer of sunglasses in North America. The company was founded in 1971 and acquired by Luxottica in 2001.

Posted by Tannerman at 05:36 PM | Categories: Pear Lane
Busy serving overpriced ice cream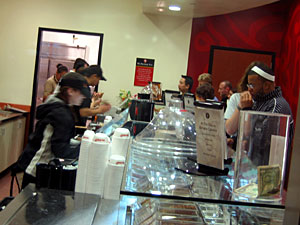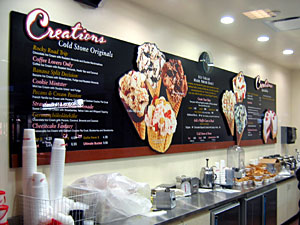 When Amy and I stopped by Old Orchard this past week, we noted that Cold Stone Creamery not only had the construction walls down, but also was hoppin' with business. It does look like a great location with Theaters 7-12 right across the way and a couple restaurants around the corner. We'll probably know better come summertime.
No word yet on how the custom flavor of Skokie Crunch tastes.

Posted by Tannerman at 05:18 PM | Categories: The Vineyard
"Sea-Derived Skincare" sails to new port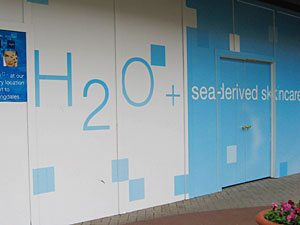 When Rogers & Hollands wanted a corner location, this prompted H2O Plus to find a new home. They're constructing a new location right next to the new Landau store on Pear Lane.
No word on when this new location is going to open, but it's probably a lot cheaper in rent than their previous spot.

Posted by Tannerman at 05:11 PM | Categories: Pear Lane
Get there in style with Liberty Travel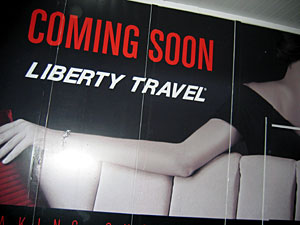 Looks like Old Orchard is opening a Liberty Travel location. I assume this is a travel agency. It's going to be located in the Hawthorne Way section of the mall, right next to Potbelly's and Theaters 1-6. I can't say this is an ideal location for a travel agency, then again, what is? Wouldn't this better fit in a more hidden area of the center, like the Professional Building or the Arcade Shops? Maybe they are banking on visibility to generate business.

Posted by Tannerman at 05:00 PM | Categories: Hawthorne Way
New Location: PacSun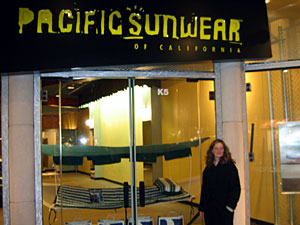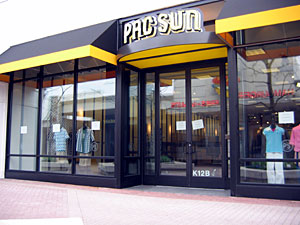 Not too long ago, the rather large Record Town/Sunday Matinee which was located in The Vineyard closed for good. It was located right next to Theaters 7-12. But hey, who still shops at record stores in the mall? There's nothing but overpriced goods to be found there, thus, they're closed.
The small Pacific Sunwear of California location that was previously found in The Garden has moved into the now-subdivided Record Town/Sunday Matinee storefront. Rebranded simply as PacSun, this is a larger store in a far more visible area.

Posted by Tannerman at 04:52 PM | Categories: The Garden | The Vineyard
Now Open: Rogers & Hollands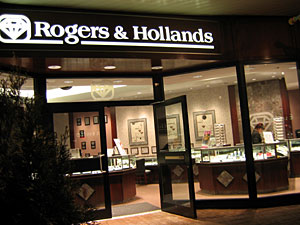 As previously mentioned, a new Rogers & Hollands was being built in a corner location in The Park section of Old Orchard. That location is now open. Nothing too spectacular to report. It's your typical jewelry store.

Posted by Tannerman at 04:28 PM | Categories: The Park
May 03, 2005
Will Old Orchard get FAT?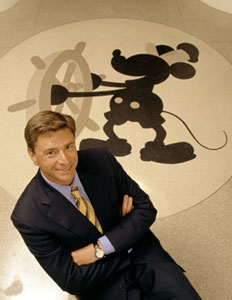 Ah, you have to love Paul Pressler. He's currently the President and CEO of Gap, Inc. But before that, he spent 10 years running the Disney theme park empire into the ground. If that was his goal, he did a fine job. You see, he wasn't a creative guy. He was a business-oriented, retail guy, having gained favor at Disney via his successful reign with The Disney Store. Eventually, he left Disney due to various factors and started at Gap in September 2002.
What does this have to do with Old Orchard? Well, for one thing, the center already has a Banana Republic, in addition to combination Gap/Gap Body and Gap Kids/Baby Gap stores. Old Orchard also offers Talbots and J. Jill. Why mention those retail locations? Because Gap is launching a fourth store brand targeted directly at the same market... with Chicago being a testing ground for 4 new stores called Forth & Towne. The name refers to the company's fourth store brand (after Gap, Banana Republic, Old Navy) and "Towne" is supposed to convey a sense of community.

Chicago a 4-store lab for Gap's Forth brand
Becky Yerak
May 3, 2005

The Chicago market soon will be a retail laboratory for Gap Inc.

When the San Francisco-based merchant begins testing its Forth & Towne format in Chicago this fall, it'll try new approaches to see what works and what doesn't. Four Forth & Towne stores will open in yet-to-be-announced malls and shopping centers in the Chicago area. A fifth will open in New York.

"We'll experiment with different ideas across the five stores to understand what really resonates and then apply what we learn to future openings," Gap Chief Executive Officer Paul Pressler said in an April 21 conference call. "This includes testing the right combination of store experiences, styles, quality, fit and value."

Finding the winning formula for Gap's fourth retail concept is important because Forth & Towne seeks the affections of women who are 35 and older

That demographic is increasingly coveted by retailers because it's growing rapidly and earns the highest average income of any age group of women, Pressler said. Typical customers at the company's namesake chain are 18 to 34. It also owns Banana Republic and Old Navy. While younger women typically shop at specialty stores, older ones tend to default to traditional department stores. "They don't feel there's a viable alternative," Pressler said.

Forth & Towne prices will fall somewhere between Gap and Banana Republic. The test stores range in size from 8,000 square feet to 10,000 square feet. That's bigger than other specialty retailers wooing that demographic.

For example, Janeville stores, launched last year by Gymboree Corp. for women in their mid-30s and older, are 3,000 square feet. The typical store of Chico's FAS Inc., whose clothes are known for their forgiving fit, is 2,600 square feet.

Stocking a wider array of sizes will be a Forth & Towne hallmark. "We want to make sure we offer a broad size range" so we can serve shoppers with different needs, Pressler said.

The fitting rooms will be in the center of the store, surrounded by "neighborhoods" of merchandise. Gap executives, echoing recent comments by Federated Department Stores Inc. CEO Terry Lundgren, are waxing poetic about how a decent dressing room helps convert store traffic into sales.

Gap expects to have about 30 Forth & Towne stores through 2007.

The chain is being developed by Gap veterans and new talent based in New York. "They're functioning like a start-up," Pressler said.

Chicago was picked as a test market because it's centrally located and has a "great demographic" of women 35 and older, a Gap spokeswoman said.
Source: Chicago Tribune
No word has been made yet regarding which shopping centers in the Chicago area will get the 4 test stores. Also odd is the spelling of the name "Forth & Towne". As mentioned by Snarkmarket.com, they misspelled both "fourth" and "town". Go figure. And over at SnarkHunting.com, it's illustrated how Gap was smart to use the ampersand in the new store name rather than spelling out the word, as the initals for the chain would then reflect Forth And Towne. Would that really describe the 35+ women's market?
We here at the Observer will keep you posted on future developments!
Posted by Tannerman at 01:55 PM | Categories: News | Other Malls | Pear Lane | The Garden
April 28, 2005
Pre-opening look at Sigrid Olsen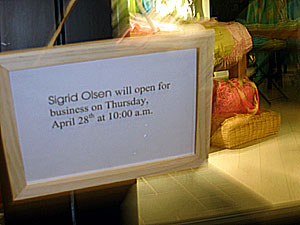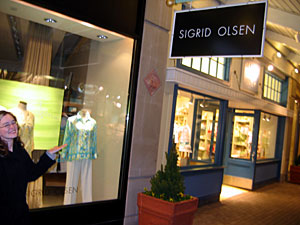 As previously mentioned, today Sigrid Olsen opened their new store at Old Orchard, which is located in the Pear Lane part of the center. During our "date night" last night, Amy and I dropped by the new location just to see what it looked like. Obviously the store was not open yet, but you could peer in through the windows.
What we saw was actually not that impressive. Looked like basically a bunch of clothes that utilized a soft, pastel color palette. However, given that this location is at Old Orchard, they are most likely overpriced. That pretty much describes 75% of what you find there anyway.
I was actually surprised at how small the space seemed. There is not a lot of square footage there, but they are on the main thoroughfare between Marshall Field's and Lord & Taylor. If course, they are also surrounded by other specialty clothing retailers, so best of luck in trying to get their products to stand out.

Posted by Tannerman at 02:38 PM | Categories: Pear Lane
The Croc comes to Old Orchard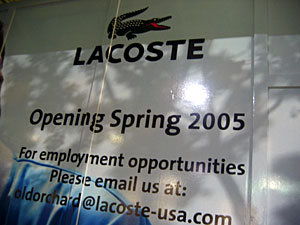 Do you remember back in the 1980s how it was so "in" to wear a shirt with that goofy crocodile logo on it? Well, that stuff was made by a company called Izod.
Interestingly, the Izod brand was split in 1995 and sold to Phillips-Van Heusen, becoming crocodile-free. The brand that retained the "croc" was Lacoste, a French apparel company based in Paris.
Their namesake is Jean René Lacoste, a famous French tennis player, businessman, and innovator. He was nicknamed "the crocodile" by fans (ah, there's where that came from!). According to Wikipedia, he is now mostly known as being the namesake of the Lacoste tennis shirt, which he invented in 1929.
I mention all of this because Old Orchard is going to be opening a Lacoste store in Spring 2005, according to their construction walls located in The Garden section. The Chicago Tribune recently published this story about the upcoming opening:

Lacoste's crocodile scares up new shops
Becky Yerak
Published April 19, 2005

Lacoste, the crocodile-logo polo shirts that were practically issued to people coming of age in the 1980s, is opening its second Illinois store next month in Westfield Old Orchard in Skokie.

After falling out of favor in the grungy 1990s, Lacoste is back, thanks to a resurgence of retro, preppy dressing. It's now a $1 billion brand globally, and U.S. sales rose 125 percent in 2004 and are expected to rise 60 percent in 2005. In 2001, Lacoste hired its first creative director and in 2003 had its first runway show.

The French luxury sportswearmaker has 28 stores and plans for five more in 2005, including Skokie, Las Vegas and New York's Soho neighborhood. Its other local store is in Chicago's Water Tower Place.

...Don't confuse Lacoste with Izod. The two names had been interchangeable, but Izod now represents a croc-less, lower-end polo brand sold in such retailers as J.C. Penney Co. In contrast, Lacoste polo shirts start at $70 at retailers such as Marshall Field's. New for this season are women's Lacoste swimsuits starting at $125.

Lacoste is part of a wave of new tenants at Old Orchard as 10-year leases expire. Other tenants include Sephora, Sigrid Olsen, Landau and Sisley. Among those departing: Lady Foot Locker, Sweet Factory, GNC and Christopher & Banks.
Source: Chicago Tribune
Posted by Tannerman at 11:22 AM | Categories: News | The Garden
April 27, 2005
Good-bye Shoppingtown!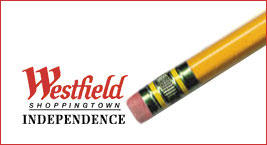 It's no secret that I detest the branding of Westfield malls as "Westfield Shoppingtown _____". It seems when Westfield purchases a property, they do their best to remove any sort of unique identity that the shopping center previously held with its customer base.
While the branding isn't completely removed, the emphasis now is placed on the corporate parent rather than the individual property itself. I think this is a bad idea as a person typically associates a positive/negative experience with a physical place when it comes to shopping, not a corporate giant. And while Westfield attempts to keep the previous mall's name in their rebranding (i.e. "Old Orchard Center" became "Westfield Shoppingtown Old Orchard"), the subtlety is lost. It's unfortunate that other large mall operators are trying to mimic this branding, namely Indianapolis-based Simon. I wish I could get my hands on some research about this strategy, either for or against, because it just baffles me.
With that in mind, I was a little shocked by this article from today's Wilmington Star-News, published in Wilmington, NC. It references Westfield Shoppingtown Independence:
Westfield engages in name-dropping
April 27, 2005
by Bonnie Eksten

WHAT'S IN A NAME: Not "Shoppingtown," after Saturday. Westfield Shoppingtown Independence mall in Wilmington will shorten its name to Westfield Independence beginning Sunday.

The Australian-based property management company manages 126 shopping malls in four countries. The company has decided that "Westfield," is the brand name consumers use and recognize, said Chuck Willetts, marketing manager at the Wilmington mall.

All the Westfield properties are slated for the name change, but don't expect signage to change immediately. Mr. Willetts said signs would reflect the new name only when they need replacing.
Interesting!
Posted by Tannerman at 03:51 PM | Categories: News | Other Malls | Westfield
Another Marshall Field's in Chicagoland?
Even with all the previously reported hype about the future of Marshall Field's, the company just announced that they would be opening a new store in Bolingbrook, IL (about 40 miles from Old Orchard). Apparently it's part of a new shopping development called The Promenade at Bolingbrook, being built by Forest City Enterprises, a firm I've never heard of before. One wonders if this store will eventually become a Macy's.
Marshall Field's Announces Plans for New Store In Chicagoland
Tuesday April 26, 11:00 am ET
Bolingbrook to Be The Company's First Store Opening In Six Years

MINNEAPOLIS, April 26 /PRNewswire/ -- Marshall Field's today announced plans to open a new store in spring 2007 at The Promenade at Bolingbrook, a new mall development on Boughton Road near Interstate 355 and the Interstate 55 exit in Bolingbrook, Ill.

The Bolingbrook store will be Marshall Field's 18th store in Illinois and its first new full-line department store in the Chicagoland area since the opening of its Northbrook Court store in 1995 and is the retailer's first new store since its Grandville store opened in 1999. Construction of the new two-level, 180,000-square-foot Marshall Field's store will begin in fall 2005.

"We are thrilled to be part of the new growth and development of Bolingbrook and to be expanding our presence in the Chicagoland area," said Frank Guzzetta, Marshall Field's president and chief executive officer. "This is a terrific opportunity for us to create an exceptional shopping experience and introduce the Marshall Field's brand to the Bolingbrook community in a new, exciting environment."

The Promenade at Bolingbrook is a 1.1-million-square-foot retail center that is being built on two separate pieces of undeveloped land and will be linked to form a seamless shopping destination covering more than 121 acres. The first phase of The Promenade at Bolingbrook is scheduled to be completed in fall 2005, and Marshall Field's Bolingbrook will open on the south side of Boughton Road during the second phase of the development.
Source: Marshall Field's Press Release
Posted by Tannerman at 10:22 AM | Categories: Anchors | News | Other Malls
Sigrid Olsen opening April 28
Another retailer that is opening soon at Old Orchard is Sigrid Olsen, a clothing specialty chain that is owned by Liz Claiborne. Here is the press release which highlights their store opening on April 28. It's interesting to note that the release references the mall as "Old Orchard Center" and not the Westfield-mandated "Westfield Shoppingtown Old Orchard":
Fashion Designer SIGRID OLSEN Announces Opening of Chicago Suburb Store
Tuesday April 26, 3:25 pm ET

NEW YORK, April 26 /PRNewswire/ -- Fashion designer Sigrid Olsen brings her nature-inspired, artful clothing line to the women of the Chicago suburbs with the opening of her store at the Old Orchard Center. Opening on April 28, 2005, the SIGRID OLSEN store is the second in the Chicago area, with the first in Oakbrook Center.

"My goal is to create an uplifting experience for the consumer in an environment designed for meeting her lifestyle needs," says Sigrid. Sigrid knows that women in Chicago are educated about fashion and crave clothes that make them feel confident and feminine.

Showcasing Sigrid's sportswear line in a relaxed, comfortable shopping environment, the store brings to life the company motto of "vision/art/clothing/life" by the artistry and beauty of the space and its contents. Honey stained gauged oak, raw black metal, and woven sisal carpets are paired with antique items, drawing on Sigrid's inspiration from nature.

For Spring/Summer 2005, Sigrid presents a line full of floral prints and garden palettes. Inspired by the act of arranging a bouquet, Sigrid chooses color stories with complementary shades. Silhouettes are modern and feminine, with special attention paid to the must-haves for the seasons - jackets and skirts.

An artist by trade, Sigrid launched her sportswear line 20 years ago and has seen it grow from casual resort wear to a lifestyle collection of year- round sportswear. SIGRID OLSEN is the core of the brand, with an emphasis on coordinated color and novelty driven collections. Collection focuses on quality fabrics and attention to detail, imbued with Sigrid's sense of color. SO be it is the artful evolution of comfort casual with a fresh contemporary spin. All divisions, including SIGRID OLSEN handbags, will be featured in the store.

Old Orchard Center is located at 34 Orchard Center in Skokie IL. Store hours are 10am-9pm, Monday through Friday and 11am - 6pm on Sunday. In addition to the new store, there are twenty-seven SIGRID OLSEN retail stores nationwide. The line is also available at select department and specialty stores.
Source: Sigrid Olsen Press Release
Posted by Tannerman at 09:57 AM | Categories: News | Pear Lane
April 26, 2005
Self-serve cosmetics: Sephora in Spring 2005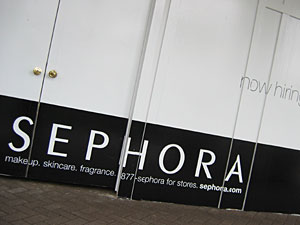 A lot of you may be wondering why all the recent store openings at Old Orchard? Is the mall not doing well or something? Actually, that's not the case all. It helps to know a little history. Mainly, that Old Orchard underwent a massive renovation in 1995. My dad actually worked as a carpenter on a few projects at Marshall Field's during this time of rehab. Anyway, it's 2005 now and many of those 10-year leases are expiring, thus the influx of new stores.
And it looks like a Sephora is being added. Being a guy, I'm like, "who cares?" But, for those interested, you may be curious in regards to a more official description of the retail chain: Shopping for cosmetics at Sephora is meant to be a hands-on sensual experience. Sephora's self-service approach to buying makeup arrived from France in 1998 with the opening of the first Sephora USA stores in New York and Miami. Now with about 95 stores nationwide, Sephora stocks more than 250 brands of prestige products, including its own collections of cosmetics, skin care, and bath and body products, all of which customers are encouraged to sample.
Sephora also sells via catalog and online at Sephora.com. Sephora is one of the largest fragrance and cosmetics retailers in Europe. Formed in 1993 by founder Dominique Mandonnaud, Sephora was acquired by LVMH, the world's leading luxury products group, in 1997.

Posted by Tannerman at 09:08 PM | Categories: Fountain Court | History
April 25, 2005
Anchors: Will they change?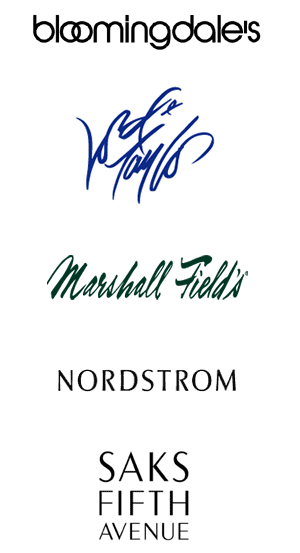 Currently, there are 5 anchor stores at Old Orchard. These are Bloomingdale's, Lord & Taylor, Marshall Field's, Nordstrom, and Saks Fifth Avenue. Interestingly, consolidation is bringing many of these anchors under common owners. This may soon change the face of Old Orchard like it has at so many other shopping centers.
For example, Marshall Field's was sold to The May Department Stores Company in July 2004. This put both Field's and Lord & Taylor under the same roof. Then in February 2005, Federated Department Stores acquired May, resulting in Bloomingdale's, Marshall Field's, and Lord & Taylor all being owned by the same company. That's over half of Old Orchard's anchors.
Will Federated keep all 3 stores running at Old Orchard? Will they sell off the real estate to someone else? Will the much-rumored name change of Field's to Macy's actually happen? I think we'll start to see some answers form this year. In the meantime, here's a quick rundown of who owns what when it comes to the anchor stores (Old Orchard anchors denoted with an astrick):
Federated Department Stores
-
fds.com
The May Department Stores Company
(Merging with Federated) -
mayco.com
Saks Incorporated
-
saksincorporated.com
Nordstrom
-
nordstrom.com
Posted by Tannerman at 06:47 PM | Categories: Anchors | News
Movin' on up with Rogers & Hollands
For some reason, jewelry stores like to be situated at corner locations in malls. There is probably some nifty piece of research out there promoting how they do well in these types of areas, because you see it everywhere. Old Orchard has its share of jewelry stores. I know this because Amy and I actually visited most of them when we were shopping for wedding rings a few years back.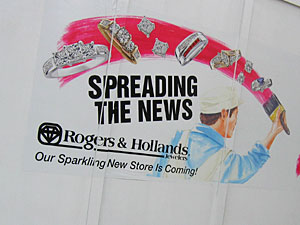 A Midwest-based retailer of jewelry that you often find in shopping centers is Rogers & Hollands. Up until recently, they had a non-corner space located on the east side of The Garden section of Old Orchard. I actually bought a wedding band for myself there before we got married. However, I found something better elsewhere and later returned the first ring.
In any case, Rogers & Hollands is moving to a new location that is actually not too far from their previous location. And surprise, surprise, it's a corner that faces The Park section, right across from a fountain. The space was previously occupied by H2O Plus, which is also moving to a new location in the Pear Lane section of the mall. No word on when the new location is opening for Rogers & Hollands, but I must say that their temporary construction walls look really cheesy.

Posted by Tannerman at 11:46 AM | Categories: Pear Lane | The Park
Fake jewelry finds its way to Old Orchard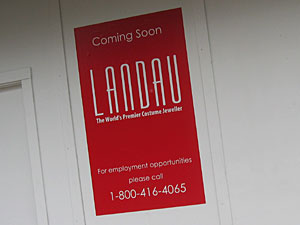 Apparently, a Landau store is "Coming Soon" to Old Orchard Center (I still refuse to call it Westfield Shoppingtown Old Orchard). From the looks of their website, this is nothing to write home about. A little poking around on the Web reveals that "Landau is the largest chain of elegant accessory boutiques in the world with over sixty exclusive boutiques located in the most exclusive shopping settings."
Is there really a big demand for costume jewerly?

Posted by Tannerman at 11:19 AM | Categories: Pear Lane
Unearth a Fossil in Summer 2005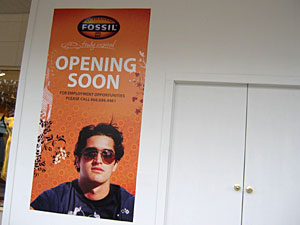 One of the many store additions coming to Old Orchard Center is Fossil, a retailer that specializes in an extensive line of fashion watches sold under their own brands along with some licensed properties, including Emporio Armani and DKNY. The store also sells other odds and ends in the fashion realm such as leather goods, belts, handbags, and sunglasses.
The new store is located in The Park section of the mall in a relatively small space. The corporate office is based in Richardson, TX. Over the past 3 years, watch purchases have accounted for approximately 68-70% of their net sales. At Old Orchard, there is already a Sunglass Hut/Watch Station, so I don't really know how Fossil is going to fit into the mix. It does seem, however, that their product is slightly more upscale.

Posted by Tannerman at 08:54 AM | Categories: The Park
April 21, 2005
NikeWomen store arriving Summer 2005
There is a lot of retail development going on at Old Orchard right now, more than we've seen over the past year, in my opinion. Pretty much anywhere you walk through the center you'll be greeted by construction walls proclaiming something is "Coming Soon". One such addition to this North Shore shopping mecca is NikeWomen (officially Nike spells it as "nikewomen"... go figure).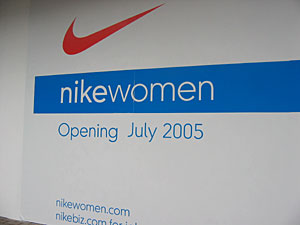 Old Orchard's store is slated to open "Summer 2005," so that leaves a pretty broad timeframe (though the construction wall states "July 2005"). Interestingly, this is only the 8th standalone NikeWomen store in the country. All but one are in California (with the oddball in Georgia), so I would imagine this will be some sort of tentpole for the region. You'll find the others at Fashion Island (Newport Beach, CA), The Grove (Los Angeles, CA), South Coast Plaza (Costa Mesa, CA), The Shops at Mission Viejo (Mission Viejo, CA), Stanford Shopping Center (Palo Alto, CA), Fashion Valley (San Diego, CA), and Lenox Square (Atlanta, GA).
Unlike a NikeTown store, which we have in downtown Chicago, NikeWomen stores are "designed to strengthen Nike's relationship with female customers through a lifestyle approach rather than the sports imagery themes found in other Nike stores." Um, OK. Apparently rather than looking like a Foot Locker, with footwear on one wall, apparel somewhere else, NikeWomen stores integrate all that stuff. For example, they display products on tables, next to coordinated outfits. There are no hard benches or locker-room decorations. Nike says that "walking into a NikeWomen store will feel like coming into someone's home." Except that this person will try to sell you stuff.
Apparently, the chain used to be called NIKEgoddess, but was renamed recently. Gee, don't know why that first name didn't work out!

Posted by Tannerman at 07:33 PM | Categories: Pear Lane
Takin' photos at Old Orchard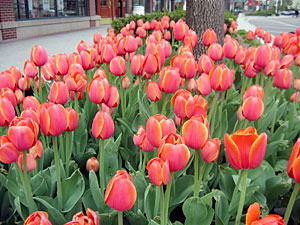 Having previously worked for a real estate investment trust (REIT) -- that's fancy talk for a company the builds and runs malls -- I'm somewhat familiar with the policies that are often put in place for a property. As much as people choose to forget, a shopping center is not public property, and therefore those who utilize them are subject to the rules of conduct that are imposed. It's even harder to come to grips with this when the shopping center is an open-air mall like Old Orchard because it feels like city streets or a park.
I remember when I was a kid we used to do these photo scavenger hunts with my youth group using Polaroid cameras. The ideal location was the area's largest mall, Woodfield. Given the size of that place, you could easily spread a group out to discover unique situations for film. However, every time we did such an event, we were required to get permission from mall operations first.
For some reason, retailers seem a bit nervous about cameras. Maybe they are afraid that a competitor will take photos of their window displays, signage, or something. Who knows. When I worked out at Randhurst, I don't believe that photography inside the mall was generally allowed. However, being a member of the management office, I was allowed to freely roam and take personal photos if I wanted. I was also often tasked with taking photos of storefronts on behalf of the leasing office. Often, photos are used inside the industry when a retailer is trying to sell a concept to a certain shopping center. They help illustrate what a store will look like, etc.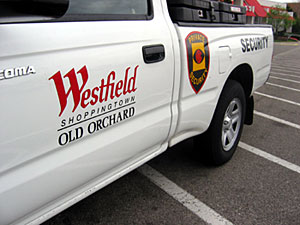 Given the scope of the Old Orchard Observer, photos help illustrate the "news and views" that I write about. Amy and I have taken photos at Old Orchard before without problems. But, just to be on the safe side, I thought I would walk over to the Customer Service area (which Westfield ridiculously calls the "Shopping Concierge Center") and ask what the mall's policy was on photography. Often, you'll find a Code of Conduct posted at the entrance to a center, but I could not find one.
While I was talking to the folks at Customer Service, a Old Orchard security officer joined the conversation to add his insight. According to what he told me, photography inside a store is not allowed. However, outside photos of the landscaping, such as flowers, topiaries, etc., would be acceptable. If you are taking a photo of another person outside while in the mall, that is allowed. However, they tend to frown on photos of actual buildings. Sounds like an obscure policy, but I can understand the concerns.
So, apparently, to be in the clear, I just need to have Amy included in every shot I take at Old Orchard!

Posted by Tannerman at 01:02 PM | Categories: Mall Info | Other Malls
Cold Stone Creamery adds custom flavor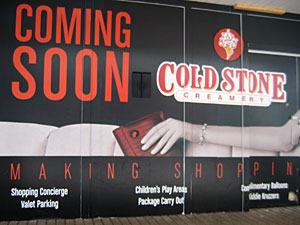 Per the Official Site, the new Cold Stone Creamery in The Vineyard section of Old Orchard is slated to open on April 30.

Cold Stone Creamery will celebrate their grand opening by introducing a special Skokie Flavor: Skokie Crunch. Skokie Mayor George Van Dusen will be the celebrity scooper at the event. During the grand opening celebration from noon to 2pm a portion of sales will benefit United Way of Skokie Valley. For extra fun, a clown will be on hand from 1 to 4pm and a balloon artist will entertain children from 4 to 7pm.
Posted by Tannerman at 11:56 AM | Categories: News | The Vineyard
April 20, 2005
Where is Old Orchard?
Old Orchard is located north of Chicago in the suburb of Skokie, inland of an area that is locally referred to as the "North Shore". Demographics tend to be upscale, with an average household income (HHI) of $110,046 (2001 figures per Polk/MapInfo Target Pro Demographic Analyzer). Comparatively, Chicago's HHI is $83,163, while the national average comes in at $59,148. So, it's without saying that Old Orchard is located in a prime area for retail success.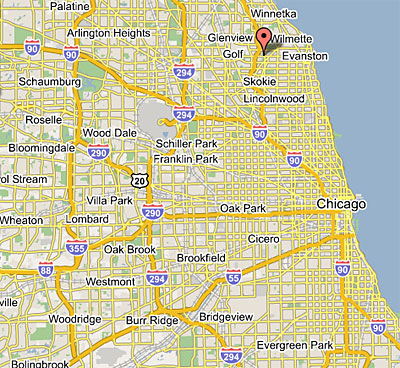 Located right off of I-94 (Edens Expressway), Old Orchard is roughly 20 minutes from our apartment in Chicago. It's bordered by Old Orchard Road to the north, Skokie Blvd. to the east, and Golf Road to the south. There is no direct access from the west off Lawler Ave. Access to the mall from the Interstate is at the Old Orchard Road exit.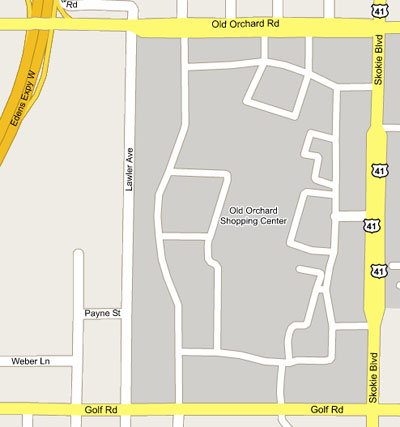 The Center is located on a rectangular plot of land and the main walkways are actually oriented on an angle, following a northeast to southwest direction. Like most regional shopping centers, the core buildings are at the center, while parking lots surround the complex. Most lots are at ground level, however there are also 4 parking garage structures. At Christmastime, it's very hard to find a parking spot at Old Orchard.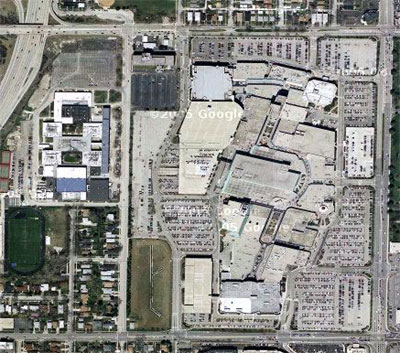 The layout of Old Orchard emphasizes the 5 anchor stores it contains: Nordstrom, Saks Fifth Avenue, Bloomingdale's, Lord & Taylor, and Marshall Field's. You'll find these retail giants located at key points throughout the property, somewhat evenly spaced from each other.
Posted by Tannerman at 08:34 PM | Categories: Mall Info
April 14, 2005
What the heck is this?
So, I know what you are saying. "Steve, do you really need another website to worry about?" After all, I already have a blog over at SteveandAmySly.com. I already have a pretty active set of discussion forums at TannerWorld Junction. I already have a professional portfolio website. Not to mention some odd side projects. Oh, and I do have a real job keeping things running at Kidology.org. So what am I doing launching something new at Bounga.com?
The truth of the matter is that most of the above projects were experiments. Either with software platforms (vBulletin over in TannerWorld Junction), journalistic tests (personal weblogging), adding new ideas to an old process (integrating online elements into a wedding), or concepts in online interaction (pretty much any crazy contest or event from the forums). That's what I'm doing here.
The current buzz in both the online and offline world revolves around blogging. While Amy and I have been doing that for a few years with our makeshift publishing system on SteveandAmySly.com, I've never used a blog-specific tool. Interest in blogging has grown, whether it be with my employer, professional contacts, or friends. Many want to know about the ins-and-outs of this whole blogging thing. So, to familiarize myself with current online trends, I have installed Movable Type, a popular online publishing tool used often for weblogs and journals.
As is often the case with those who decide to start blogging, they often rant about their personal lives or comment about other items they see online. Eventually, they get bored with the concept and yet another publishing area is abandoned. Because guess what, it takes a lot of work to write! So as I was thinking about testing out this platform, I obviously needed something to write about. Something that wouldn't demand a lot of my time with daily updates, but something that would provide for frequent updates with unique content.
I decided to write about Old Orchard Shopping Center, a large open-air mall located in the Chicago suburbs. I was already writing about the center infrequently on SteveandAmySly.com with items such as Death at Old Orchard (12/19/03), Lights out at Illuminations (2/19/04), Photo Update (7/14/04), Photo Update (12/9/04), and well as covering nearby shopping centers. It was only natural to take this personal interest and adapt it to the content needs I have here.
Also, for those who don't know, I worked in the retail industry for a while, employed by an owner and manager of shopping centers across the country. Thus I have an established interest in this phenomena of American culture. Plus, given my interest in themed environments and how they relate to human experience, adapting to Old Orchard's outdoor, park-like setting made sense. Finally, Amy and I often spend our "date nights" at Old Orchard, so it's not like I'm going out of my way to visit.
So that's the plan. To discover more about Movable Type and how it relates to the world of online publishing while focusing content around a definable, updateable subject matter. Oh, and it finally gives me a reason to use that Bounga.com domain I've had sitting around for a while! :) This thing will be constantly evolving. We'll see what happens.
Thanks for reading!
- Steve